Right now, the market for UX/UI designers reflects the same momentum as the rest of the digital development industry. Businesses caught short-handed during the pandemic are competing for talent like never before. While we were all dealing with bad checkout processes, confusing forms and patchwork retail experiences that were hastily assembled while we were quarantining, consultancies and agencies were dealing with the train car effect of budgets being frozen and then approved—leading to more work than many could handle.

Mid- and senior-level UX/UI designers are quickly climbing the ranks, and managers are left combing their networks for staff for qualified talent to backfill, keeping the opportunity pipeline very full. So, what does that mean for the entry-level designer? Opportunity.

Skills that take you past just proficiency with specific tools are in greater demand than ever before. Learning to communicate design decisions, articulate your process and work collaboratively are as much in demand as Optimal Workshop, Figma and Miro. Client experience is a must, as is understanding that projects are not always going to follow a prescribed, templated UX/UI process. Designers need to have enough confidence in their skills to know how to solve problems, not which software makes the coolest screen transitions.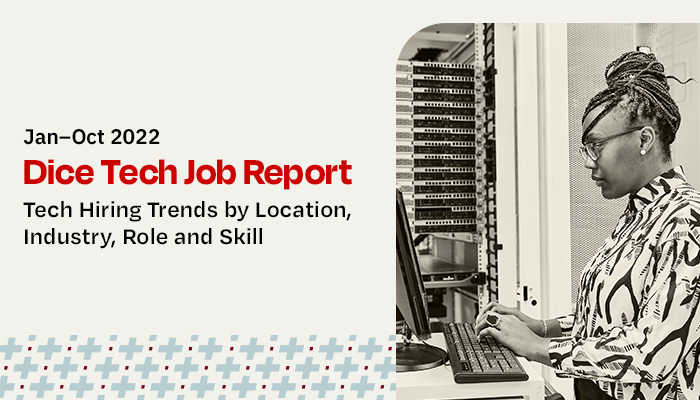 Find out which industries currently have the highest demand for tech professionals like you in Dice's latest Tech Job Report.

Hiring managers need people that they can trust to communicate well with stakeholders and need minimal oversight. They have too many other projects and meetings to juggle, and if they've been recently promoted, they themselves are trying to figure it all out as well. Even in well established businesses that have distinct roles, you as a designer are going to need to operate as if you're in a startup—do everything well, put in the hours, over-communicate, and demonstrate your value.
So, where are the gaps? Here's what the market needs and what designers can address in their next hiring interview:
Designers that can handle client project work.
Now that budgets are thawing and deals are being signed, clients have more work than ever before. With the autonomy these projects require, hiring managers want designers with real world experience that they can rely on to take the project and run with it, regardless of being entry level, so having client work on your resume is a must-have.
Designers that can help their managers manage.
Employees that are self-sufficient and can hold their own, even if they don't have years of experience, are in high demand. These employees are team players and step up to lead despite resource shortages and will be the first promotions when the dust settles.
Designers that can clear the backlog.
There's a need to dive in and clear out all of the work that has been piling up, and to do so with the passion and curiosity that only a new designer can bring to the table. For those that see every challenge as an opportunity, the opportunities will keep getting bigger and better.

So, if you're just starting your career, or maybe you're enrolled in coursework or a UX/UI bootcamp, make sure that you've chosen one that helps train you in the above: real team projects, collaborative work environments, extensive feedback from professionals and exposure to client work. If you learn, network and immerse yourself in the work, the opportunities are there for the taking.

Douglas Bantz is an educator, practitioner, mentor and advocate for all things that help people use technology for good. He is the Lead UX/UI Curriculum Developer at Coding Dojo and is excited to launch the company's UX/UI Design Online Part-Time program, built in consultation with working professionals. He still finds time to practice what he preaches and knows that where business and education intersect is where the real learning takes place.
---
Sign Up Today
Want more great insights? Create a Dice profile today to receive the weekly Dice Advisor newsletter, packed with everything you need to boost your career in tech. Register now