In
A Christmas Carol
, Ebeneezer Scrooge is visited by three spirits who share events from the past, present and near future. Wouldn't it be nice if you had such insights before accepting your next job offer? Well, in a sense you do, because you have a resume. You can reflect on your professional past and look around at where you are now. Alas, the future is beyond your grasp. Or, is it? With a bit of due diligence, you can safeguard against "new hire remorse," which is regret over accepting your latest job offer. Simply spend some quality time researching the buzz about a company online. Now, if you've read articles like this before, no doubt they pointed you to resources like Glassdoor, where employees gather to rate their company. If so, cool, as I would recommend the same. However, I wouldn't make that my only strategy. Here are a few research hacks I'd implement.
Hack #1: Google Suggest
When you type in the search box on Google, Google Suggest takes over by displaying searches that might be similar to the one you're entering. Said suggestions are based on the search patterns of Google users and relevant searches you've made in the past. Depending on your query, Google Suggest can be very helpful in gathering insight about a company. For example, let's say that I am considering an opportunity over at... wherever. Sure, money is important, but that's not the only thing that drives me. Do their values align with mine? Check out what Google Suggest tells me.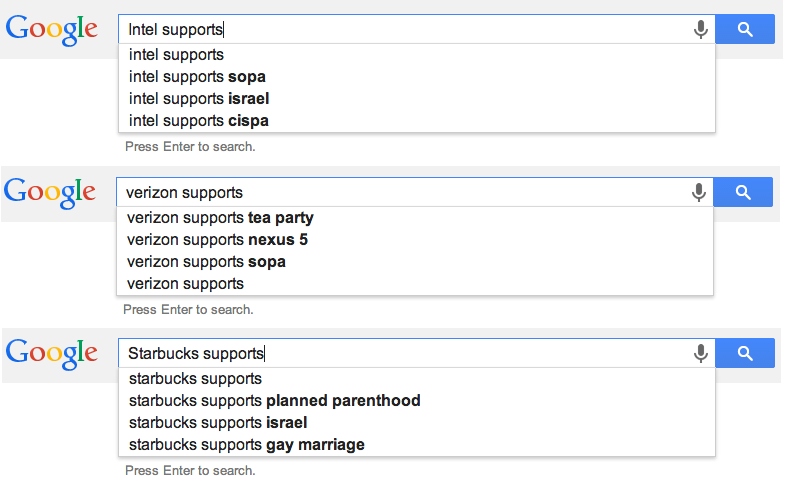 Is this bona fide proof of where a company stands? Absolutely not. However, it's a gateway to some very interesting searches.
Hack #2: A Year in Review
Did you know that you can limit your Google search to results generated in the past year? Well, any custom range really. To refine your search results to the past year, add your terms, click "Search tools" (as shown by arrow A below), then choose "Past year" (as shown by arrow B).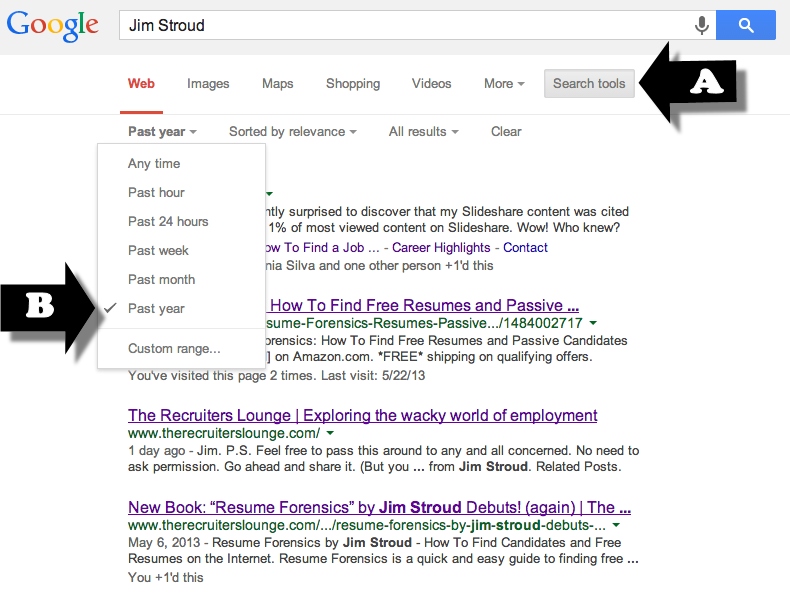 Here are a few searches I would run... How does the CEO think? What is their vision for the company?
"Netflix CEO says" | "according to Netflix CEO"
Is the company still growing?
Is the company producing new products? New products might mean additional staff.
"Microsoft launches" ("new service" | "new product")
"Google is starting"
How is the company really doing? (Assuming it's a public company.)
"Oracle's stock price has"
Apple's "quarterly results"
"stronger than expected" | "lower than expected" earnings share omnicom
Is the company a startup? If so, will money be an issue later?
intitle:startup intitle:raised | raising ("new capital" | funding) company.name
venture.capital | venture.funding intitle:company.name intitle:announces
Hack #3: Twitter Buzz
Did you know that if you search a domain, you can see who has linked to that website inside of a Tweet? In the screenshot below, I've searched the domain of a blog, the Recruiters Lounge. In the results are various tweets linking to that blog.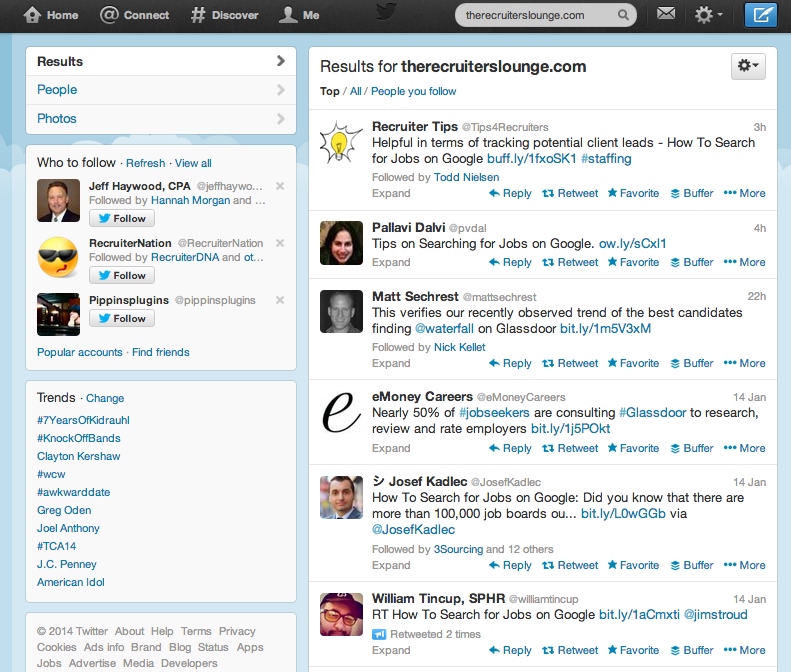 Now ask yourself, who is tweeting about the company you have an interest in? What do they have to say about it? What is the good, the bad and the ugly truth? OK, enough for now. On my way to do other things.
Let me know your thoughts on these strategies in the comments below. I would be much obliged.