Tech companies aren't the only ones faced with retention problems: The Air Force is in the same boat. So, it's offering fighter pilots an extra $25,000 per year for nine years if they sign up for its
Aviator Retention Program
by September 30.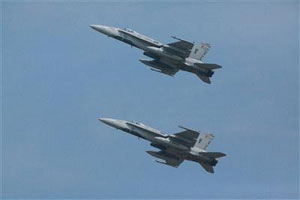 The service has about 3,000 fighter jocks right now, but warns of a potential shortage of 700 by 2021. It wants 130 pilots to take the deal. Some already have signed on. "Were it not for [the Aviator Retention Program,] there would be a greater problem than the one we currently have," Lt. Col. Kurt Konopatzke, who oversees the program, told
the Los Angeles Times
. "Senior leadership is aware of the problem and is very concerned." Air Force pilots make between $34,500 and $97,400 per year, plus the bonus. Today just 65 percent agree to extend their service beyond 11 years, when they're typically earning $90,000, compared with 80 percent in 1993. By contrast, commercial pilots, copilots and flight engineers earn a median salary of $103,210, according to the Bureau of Labor Statistics. Because airlines are facing a rash of retirements, the private sector job market looks better and better to military air crews. Besides earning better money, civilians don't face many of the personal challenges Air Pilots do: having to move their families often, leaving home for extended deployments, and shouldering a huge amount of stress. As
Gawker
put it:
Apparently a decade of endless war and the fact that fighter pilots get paid substantially less to risk horrific death than commercial airline pilots do to essentially drive a flying bus have combined to lessen the appeal of flying in those killer jets. Also have you ever felt those "G" forces? Scary.