Apple
and Google seem determined to launch a new front in a long-simmering conflict: maps.
Google
has sent
invitations
for a June 6 event in which it will apparently unveil some upcoming features of its maps. "The Next Dimension of Google Maps," reads the invite text, accompanied by a three-dimensional image of a red location pin buried in the California coastline. That suggests Google's next maps iteration will incorporate 3D in some fashion—which could be taken as somewhat ironic, considering the rumors that Apple will also soon launch a map service with 3D functionality.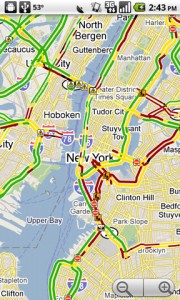 Apple's iOS currently relies on Google for its mapping function. But rising acrimony between the two companies, epitomized by Apple's series of patent-infringement suits against Google Android manufacturers such as Samsung, could drive Cupertino to craft its own homegrown services. As pointed out by
Apple Insider
and other sources, Apple has acquired a series of digital mapmaking companies over the past few years. One of those companies, C3 Technologies, builds 3D maps with a high level of detail; an October posting by the blog
9to5Mac
described the technology as based on "declassified missile targeting methods." If Apple develops mapping technology in-house, it might choose to deeply integrate other products like Siri into the final product. In turn, that could become an additional selling point as Apple continues to push iOS as an alternative to Google Android. Whatever Google and Apple end up producing in the maps category, it's increasingly clear that cloud-based mapping services are a key feature of the two companies' respective mobile franchises, and thus an important element of their overall strategies. Mapping features also demand considerable resources to build and maintain: not only for software development (which can involve everything from startup acquisitions to new-and-improved cameras for Google's street-mapping vehicles) but for the datacenter infrastructure necessary to smoothly handle millions of requests for directions and destinations.
Image: Google