[caption id="attachment_2806" align="aligncenter" width="618"]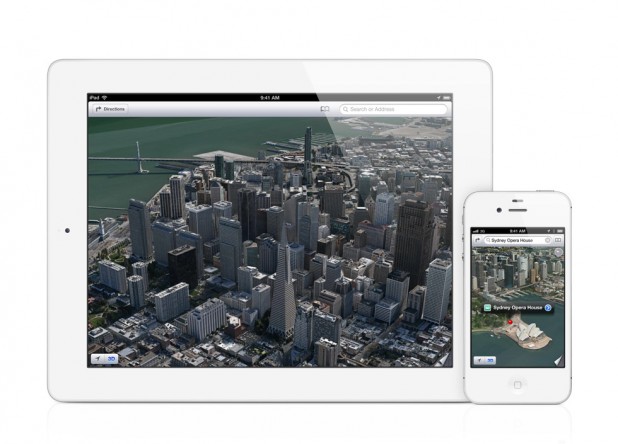 Apple's iOS 6 will offer improved maps and a variety of cloud-dependent features.[/caption] Demand for the upcoming iPhone 5 is apparently high, according to a new ChangeWave survey. When that survey asked 4,042 respondents to rate their likelihood of purchasing Apple's next iPhone, 14 percent reported themselves as "Very Likely" while 17 percent said they were "Somewhat Likely." Another 59 percent rated themselves as "Unlikely."
ChangeWave
termed those results an "unprecedented level of advance demand" for the device, which could offer a larger screen and next-generation features such as 4G support and NFC (near-field communication). By contrast, 2 percent of respondents said they would "Very Likely" purchase the Samsung Galaxy S III, one of the top-shelf Google Android smartphones, while 7 percent deemed themselves "Somewhat Likely." For the iPhone, that's a significant bump over ChangeWave's survey related to the iPhone 4S, in which 10 percent of consumers indicated they were "Very Likely" to purchase that device, while 11.5 percent said "Somewhat Likely" and 71.5 percent deemed themselves "Unlikely." The iPhone's popularity has helped create a burgeoning market for cloud-based apps from third-party developers. It's also spurred the development of rivals such as Google Android and Windows Phone, which have offered their own takes on the mobile platform. While that competition ultimately services customers with better features and functionality, it also places more strain on the companies involved to deliver cutting-edge services. The next iPhone will feature iOS 6, the next-generation iteration of Apple's mobile system. In addition to some minor tweaks—for example,
a Cult of Mac report
suggests that iOS 6 won't require users enter a password to download free apps—the operating system will feature redesigned maps, a more versatile Siri, Facetime over cellular, and broad Facebook integration. Whether or not the next iPhone proves a hit on the same level as the iPhone 4S—there's certainly no reason to think it won't—Apple will continue to face challenges on a number of fronts from IT titans who see mobile dominance as basically their only road forward. That will all but ensure the mobile and cloud spaces stay interesting for the foreseeable future.
Image: Apple