[caption id="attachment_8167" align="aligncenter" width="500"]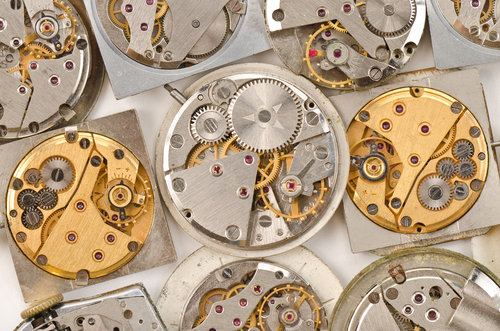 Chances are good an Apple wristwatch would be a good deal more digital than these timepieces.[/caption] Apple's long-rumored "iWatch" could earn the company $6 billion a year, if an analyst
quoted by Bloomberg proves correct
. Citigroup analyst Oliver Chen estimated the global watch industry's annual revenue at $60 billion a year, with gross margins of roughly 60 percent. "This can be a $6 billion opportunity for Apple, with plenty of opportunity for upside if they create something totally new like they did with the iPod," he told the newswire, "something consumers didn't even know they needed."
Bloomberg
and
The New York Times
have both reported that Apple is tinkering with some sort of wristwatch. In February, a
Bloomberg
article suggested that
a team of roughly 100 designers
and other specialists were hard at work on a "wristwatch-like device that may perform some of the tasks now handled by the iPhone and iPad." Meanwhile,
The Verge reports
that Apple has "chosen to rework the full iOS to run on the watch instead of building up the iPod nano's proprietary touch operating system," which has led to battery issues: while Apple would like the device to last "at least 4-5 days" between charges, the current prototypes give somewhat less. Even though Apple's financial fundamentals remain the envy of the tech world, with massive profits and sales every quarter, its stock-price has dipped precipitously in recent months. Wall Street analysts make a sport of openly wondering whether Apple's most innovative years are behind it. Whether or not those assumptions are warranted, Apple executives could be feeling the pressure to release a game-changer—a device or software platform with the unenviable task of reviving the stock, boosting already-gargantuan profits still higher, and stopping the media's flood of "Apple is Doomed" headlines. While an "Apple TV" long dominated the rumor mill as Apple's next big product, the frequency and detail of "iWatch" rumors over the past few weeks suggests that a timepiece could be the company's next big project. An "iWatch" (should Apple actually produce one) is essentially a huge bet that wearable electronics is the next big market—one where rivals are already hard at work.
Google is hard at work on Google Glass
, a set of eyewear with a tiny screen embedded in the right lens, which can do everything from display navigational data to translate spoken phrases into other languages. Other firms are exploring smartwatches—take the
Pebble
, for example, which alerts wearers to incoming calls on their iPhone or Android smartphones. While rumors are flying fast and furious over whether Apple actually has a timepiece in development, and whether such a device will eventually end up on store-shelves, there's much less scuttlebutt over possible features. Timepieces have small screens, while limits what Apple can do. Could Apple leverage its Siri voice-activated assistant as a way to pack a lot of functionality into a tiny space? That's certainly a possibility, especially if Apple plans on using a modified version of iOS as the timepiece's operating system. In theory, a wristwatch could also host a variety of navigation, mobile-payment, and phone-related apps. Oh yeah, and it should probably tell time, too.
Image: slava17/Shutterstock.com