Last week, there was word that Apple had
paid a hefty $4.5 million
for the domain icloud.com.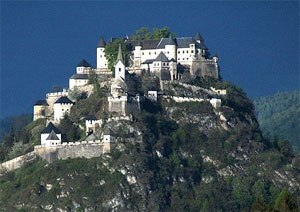 Now, we see reports that signs of iCloud -- whose existence is still a rumor at this point --
have been found
in a developer preview of Mac OS X Lion. The French blog
Consomac
was poking around in the preview, looking for references to iCloud and MobileMe, when it stumbled upon strings saying things like, "Complete your Castle upgrade." PC World says:
The ties to MobileMe suggest "Castle" will be much more than Apple's online music service. It could be all-encompassing cloud storage solution for music, photos, contacts, files, and the rest of your digital stuff.
Put that together
with this nugget
from Apple Insider
Apple confirmed earlier this year that a 500,000 square-foot data center set to go online this spring will support iTunes and MobileMe services. Given that the $1 billion facility is five times larger than the company's current data center in Newark, Calif., Apple appears to be planning a big push into cloud computing.
Apple's said that it's planning a music-streaming service, and that's what all this about. But it seems fewer people are buying that.
More from Apple Insider
:
According to people familiar with the matter, Apple is prepping beta versions of both iOS 5.0 and Mac OS X Lion ahead of its annual developers conference that integrate with a service dubbed "iCloud," enabling users to sync and store much of the same information they currently can with the company's existing MobileMe service, such as bookmarks, email, contacts and iCal events.
Apple's Worldwide Developers Conference begins on June 6, and the Mac OS is high on the agenda. So, it might be the time when Apple announces its real intentions for the cloud.