[caption id="attachment_4383" align="aligncenter" width="217"]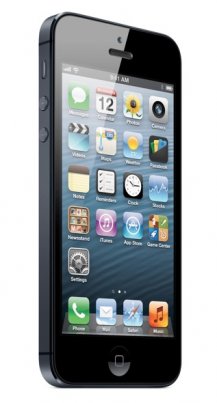 Apple iPhone 5 (courtesy
MacRumors Twitpic
)[/caption] Apple unveiled the iPhone 5 at a high-profile event in San Francisco. In addition to the updated iOS 6 OS, the device features a larger 4-inch screen, a thinner and lighter body than the iPhone 4S, Retina display with 326 PPI, an updated wireless package, and the A6 chip. Apple CEO Tim Cook appeared to introduce the device to the world. His "presentation" uniform included jeans and a dark button-down shirt, a far cry from the suit he wore as chief operating officer (COO) to introduce the iPhone on Verizon in 2011 and much more in keeping with the casual turtleneck-and-jeans
Steve Jobs
wore when introducing new products. After a brief presentation on Apple's latest stores and product updates (including 7 million Mountain Lion upgrades, and 17 million iPads sold between April and June), Cook finally introduced iPhone 5, which rose dramatically from the floor of the stage. The rumors turned out to be right: constructed entirely from glass and aluminum, the iPhone 5's screen is a bit larger than its predecessors at 4 inches, despite the phone being 18 percent thinner and 20 percent lighter than the iPhone 4S. The Retina display offers imagery at 326 PPI and 1136 x 640 screen resolution.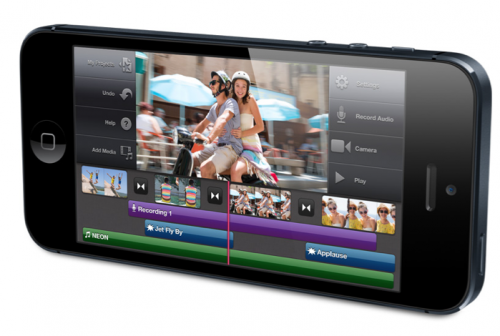 The larger screen allows for another row of icons, and Apple has apparently retooled its apps to the new size. Apps that haven't been updated to run larger, apparently, run onscreen with letterbox-style black borders. In terms of communications, the iPhone 5 features HSPA+, DC-HSDPA, and LTE thanks to a single chip for voice and data and a single radio chip, paired with what Apple termed a "dynamic antenna." In the U.S., AT&T, Verizon and Sprint will all support LTE. The iPhone 5 also comes with the proprietary A6 chip, which Apple claims is 2x faster CPU and graphics than the A5 chip while being 22 percent smaller.
Camera and Connector and iOS 6
Battery life clocked in at 8 hours 3G talk time and Web browsing, 8 hours LTE browsing, 10 hours Wi-Fi browsing, 10 hours of video, 40 hours of music, and 225 hours in standby mode. The company also introduced improvements to the iPhone "iSight" camera: 8 megapixels, with backside illumination and a hybrid IR filter and five element lens, it's apparently 25 percent smaller than previous iPhone cameras; features include dynamic low-light mode and precision lens alignment. (Video shooting is 1080p HD, with boosted video stabilization.) It will be interesting to see how the camera compares to that of
Nokia's Lumia 920
, which is being touted as that device's killer feature. Apple spent considerable time playing up the iPhone 5's "Panorama" mode, which lets users take huge images stitched together from multiple photos (the one flashed at the presentation was 28 megapixels). Apple demonstrated the new "Lightning" connector, which is 80 percent smaller than the company's previous version. After that, executives switched over to showing off how iOS 6 ran on the iPhone 5, including the new maps app with a 3D overflight mode and turn-by-turn navigation. Apple is betting heavily on Passbook and other features to give it a leg up in the competition over Google Android and the upcoming Windows Phone 8. Other updates include tweaks to the Siri voice-recognition app. "We don't want to just make a new phone, we want to make a much better phone," Apple chief designer Jony Ive said on a video flashed during the presentation, according to a livestream provided by
The Verge
. The iPhone 5 will cost the same as the iPhone 4S: 16GB version for $199, 32GB version for $299, and the 64GB version for $399. Meanwhile, the iPhone 4S will drop down to a single 16GB version retailing for $99, while the iPhone 4 will become free with contract. This is Apple's usual strategy, and its way of targeting the mid-market. The release date is scheduled for Sept. 21.
A Short Note on the Scene Outside
As expected, the unveiling event drew huge crowds of tech media and analysts. In keeping with previous product announcements, the company decked out the exterior of the event space with colorful banners hinting at the show to come: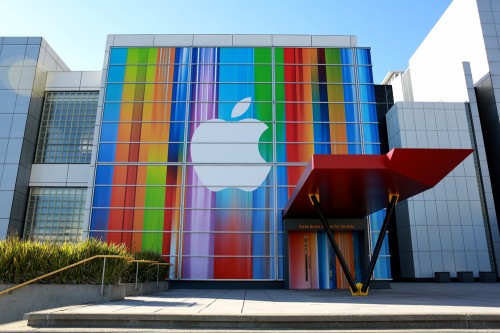 And of course, there was a flashmob: http://www.youtube.com/watch?feature=player_embedded&v=fHY4-lA2hco
The Challenge
For many pundits and analysts filling up the blogosphere in the weeks ahead of the iPhone 5 unveiling, it wasn't a question of whether the device would prove a success or failure on the market. (If past history is any indication, the latest iPhone will sell millions of units in its first few days of release.) Instead, it's more a question of whether the iPhone 5 will sell enough units to maintain Apple's stellar growth, which is heavily dependent on iPhone revenue. Many analysts seemed upbeat about those prospects. The
iPhone 5 launch
could represent "the largest consumer electronics product upgrade in history," Piper Jaffray analyst Gene Munster wrote in an August research note, echoing similar comments from Jefferies & Co. analyst Peter Misek. Despite the buzz surrounding the launch, Apple doesn't have free reign of the smartphone space. Over the summer, Gartner estimated Samsung's portion of the worldwide mobile device market at 21.6 percent, up from 16.3 percent in 2011 and head of both Nokia at 19.9 percent and Apple at 6.9 percent. "I'm the race to be the top smartphone manufacturer in 2012, Samsung has consistently increased its lead over Apple," Gartner analyst Anshul Gupta wrote in a
research note accompanying that data
. In late August, a California court ruled in favor of Apple in a patent-infringement case against Samsung, smacking the Korean electronics maker with a $1.05 billion fine. Following that decision, Google did its utter best to create some distance between Android and Samsung, releasing a statement claiming that most of the patents involved in the case had nothing to do with the core Android operating system. While that case was a decisive courtroom victory for Apple, it's unlikely to radically change the contours of its competition against Samsung and Google in the near-term. In addition, Nokia's new Lumia smartphones running Windows Phone 8, Research In Motion's upcoming BlackBerry 10, and other devices running Google Android will all make claims for at least a portion of the overall smartphone market. All those competing high-end devices could make for a very interesting holiday shopping season; but at least for right now, the iPhone 5's biggest competition could be investor and customer expectations.
Images/Video: MacRumors/Apple/ DennisG Apple Logo Color background Video Flashmob