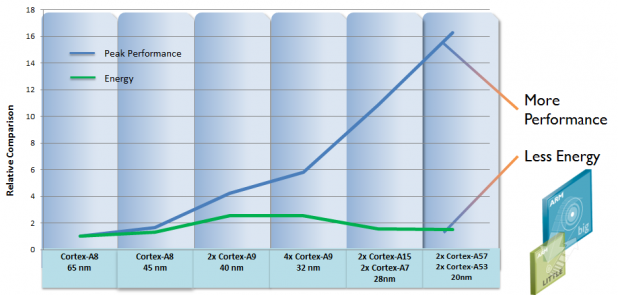 ARM is rolling out ARM v8-based Cortex A50 architecture, 64-bit cores that will fit inside smartphones as well as the data center. ARM announced both the Cortex A57, designed for high-end, single-thread application processing, as well as the A53, which the company claims to be the most power-efficient 64-bit processor—not to mention the physically smallest it's ever produced. Customers can license both designs. Although the chips will run ARM's 64-bit v8 architecture, they will also function as 64-bit chips. The two can also be combined into a big.LITTLE configuration, ARM's strategy which pairs the small, energy-efficient A53 with the larger, more powerful Cortex A57 multicore chip. OEMs, OS vendors, and application vendors can select which processor to use for certain tasks, turning each on and off to meet the power and performance needs of each function. Both the Cortex-A57 and Cortex-A53 processors will target multi-GHz performance on advanced CMOS and FinFET processes technologies, ARM said, supported by ARM's Artisan physical IP and POP IP for core-hardening acceleration. The family features ARM's AMBA system coherency that allows it to connect to ARM's fabric components, including the CCI-400 and CCN-504. ARM announced its 64-bit chip architecture in late 2011, and both the mobile and server industry have been waiting for it anxiously ever since. The 64-bit architecture is viewed as one answer to the growing need for lower power in the data center while maintaining (or at least hoping to maintain) performance. "Consumers expect a personalized mobile experience, integrating their daily lives, with seamless connectivity providing access to vast amounts of information," Simon Segars, the executive vice president of processor and physical IP divisions of ARM, wrote in a statement. "The ARM ecosystem will continue its rate of unprecedented innovation to enable diverse platforms. This will deliver an era of transformational computing, from mobile through to the infrastructure and servers that support consumers' connected, mobile lifestyles." One of the licensees on the list is Advanced Micro Devices,
which said earlier this week
that it had partnered with ARM to develop ARM-based Opteron chips for the data center. Broadcom, Calxeda, HiSilicon, Samsung and STMicroelectronics will be the other five licensees. ARM spoke vaguely about the relative performance of the new architectures, claiming that they would offer three times the performance of today's "superphones" and extending that superphone experience to entry-level smartphones. The A57 will offer "computer performance comparable to a legacy PC, while operating in a mobile power budget," the company said. The A50 architecture will interoperate with the Mali graphics processor, but ARM hasn't said if the Mali can operate like a specialized graphics co-processor for the data center. Optional cryptographic acceleration is an option.
Image: ARM