While it's not time to celebrate, Atlanta's IT job market is showing some signs of getting better.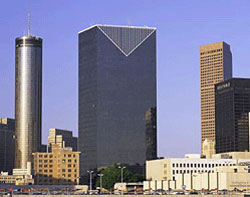 In the past month, Michele Abel, chief executive of Corporate and Technical Recruiters, has seen an increase in the number of orders for IT jobs. She currently has about 15 to 20 IT openings, and was recently expecting to extend offers for an implementation specialist and several project managers. Still, she notes, companies continue to be very specific about what they want.
"They are hiring but they are hiring for specific positions," says Abel. "They aren't expanding. They're filling in vacant positions or replacing someone. Atlanta is a good job market but it's tight. It's not growing by leaps and bounds."
James Marinelli, managing director at Manpower Professional, agrees: "It's been a little bit better," he says. "I don't think the floodgates are ready to open, but we're seeing more job orders. We have clients who are saying that projects will start in January."
The skills outlined in his job orders show a need for software developers and some help desk though not a lot for project managers. Marinelli also sees demand for business analysts in financial services. Most project work is coming from firms that specialize in project integration or solutions for telecommunications and infrastructure.
Gary Henning, a district manager at Robert Half Technology, also has seen some improvement in the Atlanta market over the last few weeks, with demand for .NET developers, data warehousing, Java, help desk and desktop support, networking and security. He's also noticed more discussions surrounding Windows 7 implementations. "Everybody is talking about Windows 7, but it's hard to get specifics on when they will go in that direction," he observes.
In general, Atlanta isn't home to many IT startups. Instead, a number of traditional companies have offices in the city, which has been hit hard by the real estate downturn. Abel says companies that are hiring tend to look for IT specialists who are multi-skilled but well-versed in a particular vertical. Employers also seek techies with both a degree and certifications. "We have more positions than we can actually fill, but they're looking for the best and the brightest," she explains.
On Dice, job postings for the region showed a 27-percent year-over-year decrease, with 2,080 jobs listed in November 2008 compared to 1,510 jobs listed in November 2009.
According to the University of Georgia, the number of jobs in Atlanta was up 5.4 percent from November 2008. During a "Georgia Economic Outlook" luncheon hosted by UGA's Terry College of Business, university economists painted a cautious forecast for the state's and nation's economy during the coming year. Georgia's economy in 2009 retrenched by about 3.8 percent, after adjusting for inflation. In 2010, the state's gross domestic product is forecast to begin expanding again, with a projected growth rate of 1.7 percent. That would represent the first year-over-year expansion of the state's economy since 2007, according to UGA's newspaper, Red & Black.
However, state Labor Commissioner Michael Thurmond says Georgia is mired in a prolonged and painful economic downturn that's worse than national one. For 24 of the last 25 months, Georgia's unemployment rate has exceeded the nation's, rising to 10.2 percent in November - up 3.1 percentage points from November 2008.