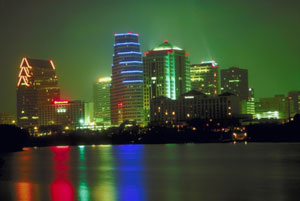 A 'New Wave' of Data Centers
: Three companies have built, or intend to build, new multi-tenant data centers as local customers expand their online operations, and companies in other regions see Austin as an attractive area for their IT operations.
Statesman.com
IBM Helps to Create Smart Infrastructure:
As part of the IBM Smarter Cities initiative, IBM interns met with city officials to present suggestions on new software and solutions for creating a "smarter" Austin. They presented new software to the Austin Water Utility and Communications and Technology Management department that could be used for a variety of tasks including managing traffic, identifying educational trends and help with crime prevention.
Community Impact Newspaper
Dell Lowers Revenue Forecast:
Dell's decision to lower its revenue forecast reveals how computer manufacturers are being pulled in two directions. While corporate and government demand for PCs has helped to lift the industry after the recession, consumer demand is low because of high unemployment and the popularity of new gadgets like tablet computers and smartphones.
SiliconValley.com
Socialware Receives $7 million:
Social media management software maker Socialware received $7 million in Series C funding, it's second round of financing this year. The company, which develops social middleware, employs 55 workers and has received $14 million in venture capital since it launched in 2008.
Austin Business Journal
Austin Apartment Rents, Occupancy Rates Soar:
The occupancy rate here was 96 percent in June and could reach 97 percent at the end of the year as the area continues to attract new residents. Rents reached a record level in June, averaging $772 a month for a one-bedroom unit and $1,043 for a two-bedroom, according to Capitol Market Research.
Statesman.com
Computer Center Tests Liquid Cooling:
The Texas Advanced Computing Center in is testing servers fully immersed in mineral oil, a non-conducting fluid. The Center says the new method provides better operating efficiency and greatly reduces the amount of power used.
Computerworld
Intel's Havok buys Trinigy:
Havok, a provider of interactive software solutions for the entertainment and simulation industries, purchased Trinigy, a 3D game-engine provider with offices in Austin. Havok will now been known as Havok Vision Engine.
Washington Post