The latest unemployment figures from California's
Employment Development Department
show a decline in Santa Clara County to 11 percent, the lowest rate in a year, down from a high of 12.1 percent last January. Statewide, the unemployment figure was a bit worse at 12.4 percent.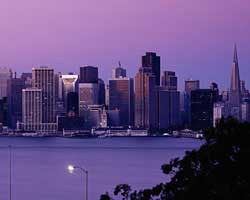 Although the general feeling among California economists is that the picture in Silicon Valley's technology industry is less gloomy than elsewhere in the once-Golden State, there are still large numbers of IT people who have been out of work for a year or more.
Multiple Offers for Some, Serial Layoffs for Others?

As if to underscore the uneven nature of the current recession/recovery taking place in Silicon Valley, the experience of IT job hunters at the NOVA Job Seeker Center in Sunnyvale has been disheartening for some and upbeat for others.
On the one hand, NOVA director Kris Stadelman reports having had some recent clients who'd been laid off early in the recession, then found a job, and were laid off a second time. "It's often true that people in IT have experienced serial layoffs for a variety of reasons," Stadelman observes. "Usually the last ones hired are the first ones out the door" when a layoff occurs.

The flip side: The recession never really dampened demand for certain IT skills - most notably software architects and project managers. As a result, some of those professionals are enjoying multiple offers. "All the way through this recession there have been shortages of certain skill sets," Stadelman says. "For IT people, though, they may also need to be able to cover more disciplines, so that if they knew IT and vendor contracting, now they also need finance skills."
Yet another mini-trend Stadelman sees is the overworking of tech professionals more than ever before. Partly this is a result of the recession, and partly it's because companies have cut back so much when they still need to get a certain amount of work done. "The people who are left are doing two or three jobs."

Wells Fargo, PG&E Add Contract IT Help
In the wake of its merger with Wachovia Bank, San Francisco-based Wells Fargo's IT department continues to expand. The bank is bulking up with an influx of contract workers, according to an insider at TekSystems. In particular, Wells Fargo needs business analysts, project managers, and quality assurance professionals. Most IT contracts are for a maximum of 18 months.

Also gobbling up contract help is Pacific Gas & Electric. In a situation similar to Wells Fargo, PG&E is adding IT contractors for its rollout of millions of smart meters statewide, as well as for other project-based work.
-- Doug Bartholomew