[caption id="attachment_13679" align="aligncenter" width="502"]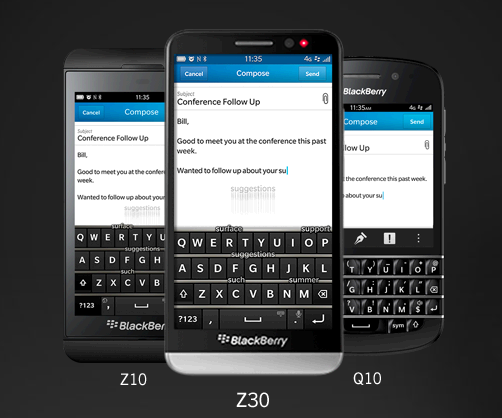 None of the new BlackBerry 10 devices sold very well.[/caption] It might not be the best of times for BlackBerry, but at least the embattled smartphone maker will survive to fight another day: institutional investors including Fairfax Financial Holdings plan on pouring $1 billion into the company in exchange for a significant number of stock shares. But it's definitely not the best of times for CEO Thorsten Heins, who's departing the company. Taking his place on an interim basis is John S. Chen, who once served as CEO of Sybase, and who will also serve as the company's executive chairman. "The BlackBerry Board conducted a thorough review of strategic alternatives and pursued the course of action that it concluded is in the best interests of BlackBerry and its constituents, including its shareholders," Barbara Stymiest, chair of BlackBerry's board,
wrote in a statement released by the company
. "This financing provides an immediate cash injection on terms favorable to BlackBerry, enhancing our substantial cash position." Heins himself had no official comment. Under Heins, BlackBerry bet everything on BlackBerry 10, its next-generation operating system. That proved a miscalculation, as branded devices loaded with BlackBerry 10 refused to sell, and the company ended up taking a $960 million write-down on unsold inventory. Once a champion of the mobile-device market, BlackBerry has watched its smartphone market-share crash from 55.3 percent three years ago to roughly 2.7 percent today (according to research firm Gartner). The sophistication of rival platforms such as Apple's iOS and Google Android, combined with businesses' increasing willingness to allow employees' personal smartphones onto corporate networks (a phenomenon known as BYOD), drove that erosion in the consumer and business fields. Fairfax Financial indicated in September that it would acquire BlackBerry for $4.7 billion, soon after BlackBerry's Board of Directors announced that a search for a potential acquirer was well underway. According to Bloomberg, however, it was unclear at the time whether Fairfax Financial would prove capable of supplying all those billions. BlackBerry's attempts at drumming up buying interest from technology giants such as Cisco and SAP went nowhere, as those companies seemed far more interested in snatching up various components of BlackBerry's business rather than taking on the problematic whole. Having failed to sell itself off, BlackBerry will now retreat from the consumer market. The question is whether retrenching around business services will be sufficient foundation for some sort of turnaround. Given how the
stock plunged in the wake of BlackBerry's announcement
, Wall Street has its doubts.
Image: BlackBerry