[caption id="attachment_9472" align="aligncenter" width="500"]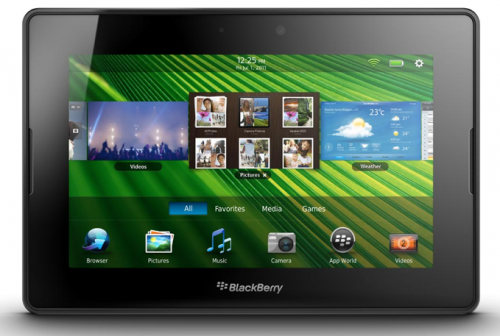 BlackBerry PlayBook: DOA?[/caption] BlackBerry CEO Thorsten Heins believes that tablets will be dead within the next five years. "In five years I don't think there'll be a reason to have a tablet anymore," he told an interviewer at the Milken Institute conference in Los Angeles,
according to Bloomberg
. "Maybe a big screen in your workplace, but not a tablet as such. Tablets themselves are not a good business model." That may come as a surprise to Apple, Google, Amazon and Samsung, all of which have built significant tablet businesses over the past few years. Research firm Strategy Analytics
suggested in a research note
earlier this month that the global tablet market hit 40.6 million units shipped in the first quarter of 2013, a significant rise from the 18.7 million shipped in the same quarter last year. On top of that, the tablet market has become increasingly dynamic, with Android tablets managing to carve away a significant portion of the Apple iPad's once-dominating lead. Amazon's Kindle Fire and Google's Nexus tablets are earning largely positive reviews and correspondingly strong sales; and nobody's discounting Samsung's Galaxy tablets as contenders. These latest devices are leagues above the first generation of Android tablets, which were criticized for substandard hardware and software. Another research firm, IHS iSuppli, predicted in April that tablets would eventually
kill any market
for netbooks, or small and ultra-cheap laptops. "Netbooks shot to popularity immediately after launch because they were optimized for low cost, delivering what many consumers believed as acceptable computer performance," Craig Stice, senior principal analyst for computer platforms at HIS, wrote in a section of the report
quoted by the Los Angeles Times
. "However, netbooks began their descent to oblivion with the introduction in 2010 of Apple's iPad." So why would Heins offer such a pessimistic prediction when everyone else—from the research firms to the tablet-makers themselves—seems so full-speed-ahead? It's easy to forget sometimes that BlackBerry has its own tablet in the mix: the PlayBook, which was released to quite a bit of fanfare in early 2011 but failed to earn iPad-caliber sales. In the intervening quarters, BlackBerry (while still known as Research In Motion) began giving away free PlayBooks to third-party developers. PlayBooks rely on the same QNX-based operating system as BlackBerry 10, the company's Hail Mary attempt at continued relevance in the mobile-device arena; if developers built lots of apps for the tablet, went the company's reasoning, then BlackBerry 10 could launch with a full marketplace of useful software. Despite that usefulness to developers, however, the PlayBook has become a weak contender in the actual tablet market. If Heins is predicting that market's eventual demise, it could be a coded signal that he intends to pull BlackBerry out of the tablet game, focusing instead on smartphones. It wouldn't be the first radical move the company's made in the past year.
Image: BlackBerry