[caption id="attachment_17137" align="aligncenter" width="600"]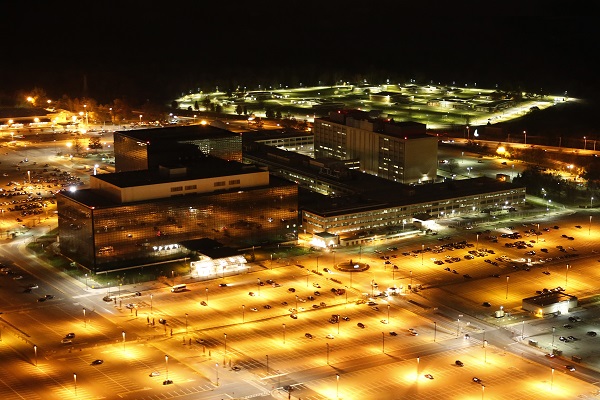 National Security Agency HQ, Ft. Meade, Md. by night.[/caption] In a Jan. 17 speech on the National Security Administration (NSA) eavesdropping scandals, President Obama announced the agency
could continue collecting data, but would have to pay a non-governmental agency to store it.
The Office of the Director of National Intelligence (ODNI) is now trying to figure out a contractor to take on that job, and how much it would cost. In a request for information (RFI) issued Feb. 5
(Telephony Metadata Collection Program, ODNI-RFI-14-01)
, the NSA's parent organization announced it was looking for ideas about how to " provide for a new approach to the government's telephony metadata collection program under Section 215 of the USA Patriot Act, without the government holding the metadata, while maintaining the current capabilities of that system and the existing protections for U.S. persons." The RFI specifically asks for existing commercial services, not a service to be developed in answer to its specifications, and is not asking anyone else to actually collect the data. Additional items on its wish list include:
Near real-time access to data.
Correlation of data with varying provider data formats.
Simultaneous or near-simultaneous real-time access to data across multiple provider-stored data sets.
Secure storage and access for U.S. telephone metadata records for "a sufficient period of time."
A provider that can: "Meet rigorous security and auditability standards to ensure that no queries take place without appropriate authorization and no data is provided to the Government unless in response to an authorized query while maintaining 99.9% availability."
One interpretation of the particular tone and questions in the RFI is that the NSA has no idea how to transfer and store super-secure eavesdropping data with a third party and "is asking the big American defense contractors to come up with some solutions," according to a blog about the RFI from Matthew M. Aid, intelligence historian and author of
"The Secret Sentry: The Untold History of the National Security Agency.
" Aid, who blogs regularly about the NSA, CIA and other U.S. security services, also mentions the security situation at the Winter Olympics in Sochi, where the
FBI and CIA are being "shunned" by Russian security services
and are feeling left out. Apparently the Russians believe the 150 or so U.S. security reps aren't needed to fill in the gaps left by the 70,000 Russian security officers already flooding the area and enclosing it in a "ring of steel." Whoda thunk? Nor do U.S. security services get love from other Russians, Aid writes. After the agencies' rejection by the official FSB security service, it seems gratuitous for a restaurant near the skiing and snowboarding venue to have to post a sign reading,
"We do not serve FBI and CIA agents."
But at least they're consistent.
Image:Creative Time Reports/ Trevor Paglen/Creative Commons license