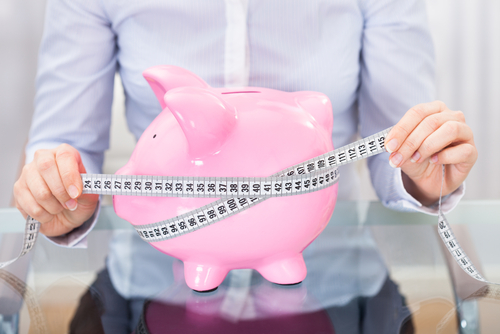 Up-and-coming IT professionals with their eyes on the
CIO position
might want to expand that vision a bit, at least if a new survey on how business units view IT staff is correct. Business executives are increasingly unhappy with the inability of both IT organizations and CIOs to lead the rest of the company in profitable new business opportunities and innovations, even as they still acknowledge the critical role that IT plays in keeping the business humming along efficiently, according to a recent survey of 800 executives
published by McKinsey & Co
.
Click here to find CIO jobs.
(McKinsey isn't the only group reaching that conclusion:
according to a separate survey
from
The Hackett Group
, IT executives are being pushed to redefine their own value proposition, demonstrate their actual contribution to revenue, and develop analytical capabilities that will help the company as a whole continue to grow.) That difference in perspective on CIOs stems from fundamental changes in the expectations and fears of other executives. In 2013, 31 percent of McKinsey respondents said they were concerned that IT cut its own costs, versus 52 percent in 2012; meanwhile, the number of those concerned about IT cutting costs for existing business processes stayed flat. But those who said they're most concerned about IT improving the effectiveness of business processes jumped from 49 percent in 2012 to 61 percent in 2013.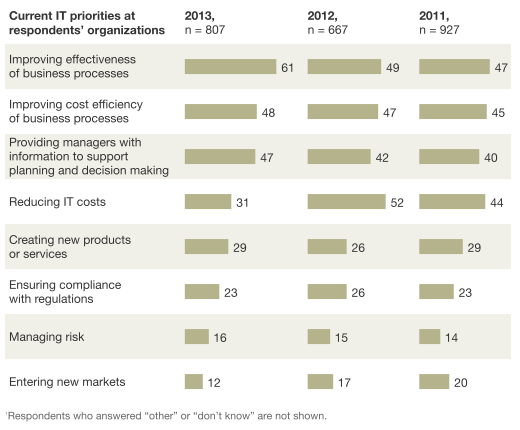 Far more respondents said their companies use IT to improve the business, not simply help it operate. That's good news for CIOs concerned about IT's efforts aligning well with the priorities of the business, as well as contributing to strategic value. It's bad news for those hoping it'd be enough simply to run an efficient, forward-thinking IT operation that gives business units all the tools they need to make the organization successful, according to the report. IT is now considered so much a part of the fabric of the business that the CIO is under as much pressure to produce new business opportunities and profits as any other top executive. Budget isn't the main issue that executives have with their IT departments: the percentage of companies planning to spend more on IT rose to 64 percent in 2013, compared to 55 percent in 2012. But the percentage of executives saying IT contributes to key functional areas dropped significantly, with those rating IT as "helpful" in entering new businesses dropping from 57 percent in 2012 to 37 percent in 2013; meanwhile, those lauding IT's help in creating new products dropped from 62 percent to 49 percent. IT's role in tracking the profitability of market segments or customers tumbled from 71 percent to 62 percent. Even
IT executives
are unhappy with their own performance. Only 13 percent said their organizations are as good or better at introducing new technologies faster than competitors, compared with 22 percent the year before. A mere 19 percent said they were good at finding places IT can add the most value, compared to 26 percent last year.
Cloud computing
services have become the standard against which IT is judged,
according to that separate survey from the Hackett Group
, which also found IT's responsibilities are shifting from simply providing services to actually producing revenue. "You've got to grow the business, not just run the business," Mark Peacock, an IT transformation practice leader and principal at Hackett, told
Computerworld
. Let that be a lesson to any IT professional who wants to keep climbing the ladder.
Related Stories
Image: Andrey Popov/shutterstock.com Chart: McKinsey & Co.