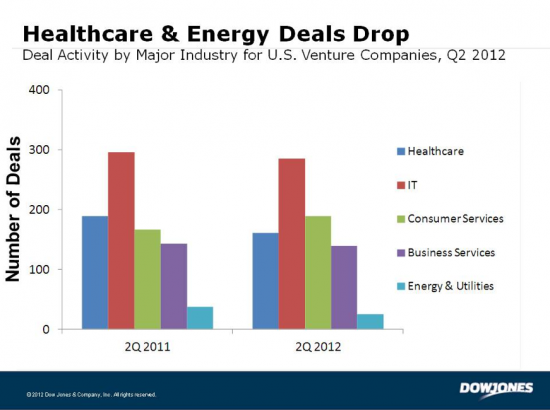 Venture Capitalists continue to eye enterprises as sources of new investment, as both low-power server startup Calxeda and data-center operator IO raising new rounds of capital this week. Calxeda,
whose ARM-based technology
powers servers by Boston Energy, announced $55 million in additional funding. Meanwhile, IO raised $90 million in equity from a group led by New World Ventures. IT firms remain at the top of the list for venture-capital investment, according to a second-quarter report by Dow Jones Venturesource. IT companies raised $2.4 billion via 286 deals in the second quarter. Software continued as the primary driver of deals and investment, the firm said: 218 deals raised $1.6 billion, a 2 percent decline in deals and a 2 percent increase in capital from the second quarter of last year. Nonetheless, questions still hang over Calxeda. Analyst firms such as Gartner have claimed that
low-power servers will command only a tiny fraction
of the market compared to their more powerful (and hotter) X86 cousins such as the Intel Xeon. But that hasn't dissuaded Calxeda's backers. "In the time since we first met Calxeda, they have executed exceptionally well, and the market has begun to embrace disruptively power-efficient datacenter architectures," Clark Jernigan, a venture partner at Austin Ventures, wrote in a statement. "Calxeda has also demonstrated solid customer traction across several key end user segments, and we are very excited to join their already impressive investor group." Calxeda's funding includes investments by Austin Ventures and Vulcan Capital, plus additional participation by the firm's existing investors. Calxeda will use the funding to accelerate adoption and innovation in the emerging market for ultra-low power scalable computing, it said. Meanwhile, New World Ventures' investment of $50 million into IO is the largest single transaction in the fund's 15-year history. IO said it planned to use the investment to expand globally, putting it in competition with Digital Realty and Equinix for an overseas presence. "We are very excited to have New World Ventures as an investor and partner," George D. Slessman, IO's chief executive officer, wrote in a statement. "With this round of capital investment, we will expand our sales footprint globally and position IO as the global leader in Data Center 2.0 technology."
Image: Dow Jones