by Don Willmott
Scott Brown's come-from-behind victory in last week's special Massachusetts Senate election brought with it a lot of "throw the bums out" rhetoric that we're sure to hear lots more of between now and the midterm elections in November. Given the unimaginably huge amounts of money the government has earmarked for stimulus programs and bailouts to create or save jobs, it's no surprise that some angry voters think government is just too big (though I'll bet the 2 million civilian federal employees think it's just the right size).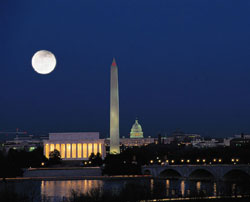 So the question becomes: Can a government, any government, efficiently create or stimulate good forward-looking jobs, especially jobs in the technology space, that will position the nation favorably for the future? Anyone who reads Thomas Friedman's warnings about the technological rise of China and India must wonder if there's anything our government can do to compete against these emerging economic superpowers.
Maybe we could learn a thing or two from tiny Singapore. Last fall, the government there, specifically its National Research Foundation, came up with $35 million (U.S.) and recruited seven international venture capital firms to find and manage startup companies, making the NRF a business partner and beneficiary of their ultimate successes. The NRF will provide up to 85 percent co-investment in each startup, and the VC manager will be required to invest at least the balance of 15 percent. If a startup takes off, the VCs will be able to buy out the government's share after three years. The plan is part of Singapore's $250 million (U.S.) "National Framework for Innovation and Enterprise Program." I can just picture IT pros from all around the world booking their tickets on Singapore Airlines.

What a great idea, and what a little bit of money that is compared to, say, our $787 billion stimulus plan. Of course, it's far easier to get a scheme like this organized quickly in a country with a population of just 4.8 million and a single ruling political party that operates basically unopposed. Still, I wonder why our government can't be a little more entrepreneurial when it comes to tech job creation, especially in the alternative energy sector, where success would ultimately improve our national security? (Thomas Friedman is ringing in my ears.)
Almost every large state and many large cities now have a wide array of associations, chambers of commerce, consortiums, public/private partnerships, and booster clubs devoted to attracting technology jobs that can replace rapidly disappearing manufacturing jobs. For just one example, check out Detroit's relentlessly optimistic Automation Alley. We need more. Make sure you know what's going on in your city.

Some states have even decided to wrap their tech initiatives around a unifying theme. Most recently, Maryland decided to position itself as a natural hub for cybersecurity. "Maryland is poised to lead the nation's war on cybercrime. From the innovative work being conducted at NIST, our universities and Maryland companies both large and small, to our highly-educated IT workforce, we have a duty to ensure the safety and security of every American citizen against this growing threat," said Governor Martin O'Malley not long ago. I like this branded approach. Does your state have a technology theme?
And by the way, even if you think the federal government is too big, it's always hiring and shouldn't be ignored if you're launching a big job hunt. Check out Dice's own ClearanceJobs.com to see some of what's out there.