With an unemployment rate far surpassing the national average, the Motor City looks for job growth anywhere but the automotive industry.
July 2009
---
In early June, Detroit was rocked when two
University of Michigan
economists,
Joan Crary
and
George Fulton
, predicted the state will lose another 300,000 jobs this year, raising its unemployment rate to a whopping 15.8 percent from the current 13.9 percent. "The light at the end of Michigan's long economic tunnel, which residents have been yearning to see, eludes us still as we encounter yet another bend in the track," said Fulton. Michigan and Detroit face jobless rates far higher than the current U.S. rate of 9.5 percent.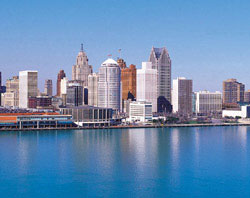 How will Detroit replace its traditional manufacturing job base? Jobs in the so-called "knowledge economy" grew 6 percent nationally between 2001 and 2007, but Michigan didn't share in that growth, so local leaders feel now is the time to push industries like healthcare, bioscience, and information and industrial technology.
Automation Alley
certainly thinks so. The business association, "driving growth in Southeast Michigan's economy through a collaborative culture that focuses on workforce and business development initiatives," said in its last annual report that when taking the auto industry out of the equation, tech job growth has actually been inching up, with 311,438 people in the region employed in some sort of technology post, which works out to 14.7 percent of all jobs, above the national average. The report highlighted life sciences as a growth sector, with
healthcare IT
also playing a significant role.
Although digging around for these small kernels of optimism is worthwhile, the reality in the trenches is pretty ugly right now. At
Dice
, there are only 419 job listings for the Detroit metro area, down from 512 six months ago and 1,128 a year ago. Detroit's tech salaries did rise 9 percent - to an average of $73,327 in the most recent Dice Salary Survey - but that still ranks just 24th out of the 31 cities Dice tracks. Just one painful example: Eighteen months ago, insiders were keeping an eye on
Quicken Loans
, which was set to grow its local presence dramatically. But just in the past few weeks, the financial software company decided to scale back from employing 4,000 people in downtown Detroit to 1,500.
TechAmerica's
annual Cyberstates report, published in March, didn't yield much good news, either. However, it did emphasize the important role technology plays both inside the auto industry and beyond it. "Despite a difficult year, high tech remains a crucial component of Michigan's current and future economy,"
Rick Kurtz
, chairman and chief executive of
Advanced Photonix
, an Ann Arbor-based maker of photodiodes, said about the report. "We are hopeful that federal stimulus spending, which includes significant technology infrastructure investments in many of our markets, will make its way to Michigan and help in the economic recovery and future growth." What about that stimulus money? Michigan expects to receive an estimated $18 billion, of which $7 billion will pass through more than 100 existing programs or funding streams. (The rest will come from tax cuts or credits.) As is the case nationwide, big chunks of money will be doled out via a competitive grant process. There are more than 70 such opportunities in Michigan (which are listed
here
).
The Michigan Economic Development Corporation
also maintains a list of grants and has a special fondness for the alternative energy and life sciences industries. In fact, it claims that over $2 billion is invested in life sciences R&D annually and that there are currently 542 life sciences companies - all of which certainly require IT staffs - in the state, already employing more than 31,000 people. As that money slowly trickles down, all IT workers can do is try to position themselves in the specific specialties that may see the most demand. According to
the Michigan Bureau of Labor Market Information and Strategic Intelligence
, five of the ten fastest growing occupations in the Detroit area between now and 2014 will be technology related, including
network systems
and
data analysts
(43.7 percent growth),
application software engineers
(32.1 percent),
network administrators
(30.7 percent),
database administrators
(30.4 percent), and
systems software engineers
(28.4 percent). Of those, the highest paying positions will be for application software engineers, of whom 2,200 are expected to be hired during the five-year time frame of the outlook.