Although the computer industry generated the fifth largest number of job cuts last year, it's poised to post strong gains in certain slivers of the sector in the new year, according to a Challenger, Gray & Christmas
report
released Friday.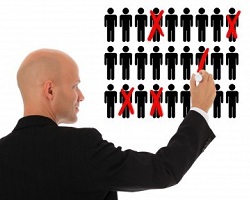 The computer sector lost 35,136 jobs last year, according to the report, as
Hewlett-Packard cut tens of thousands of employees
from its payroll and companies like
Cisco
and
Intel
also announced large cuts. In the month of December alone, the computer sector lost 5,578 jobs – up more than five times the amount lost the same period a year ago. Despite the grim news, the computer sector managed to exit 2013 with fewer layoffs overall than 2012, notes Challenger Gray. In fact, job cuts were down 24 percent in the computer sector last year and the industry ranked third in terms of hiring announcements, with 26,000 employees added to the payroll.
"Our hiring total represents a tiny fraction of the actual job creation, since most employers do not formally announce hiring plans. Computer science, information technology, electronics manufacturing and telecommunications will continue to be strong job generators in the 2014 economy," says John Challenger, CEO of the Chicago outplacement firm Challenger, Gray & Christmas. He added the computer sector will benefit as new companies form and existing companies expand their products and services related to Big Data, cloud computing, and security.
Everybody Else
For 2013, employers reported 509,051 cuts, down 3 percent from 2012 and the lowest yearly total since 1997, the Challenger data showed. "The recovery has been slow, but every year since the recession has been better than the previous one," says Challenger. New York-based firms slashed the most jobs in 2013, with cuts of 82,952. California firms came in second with 59,535 cuts. The rate of layoffs at U.S. firms also improved for the month of December, with the number of planned cuts falling 32 percent when compared to November. Employers announced 30,623 layoffs in December, dropping from 45,314 in November, according to Challenger Gray. The last time employers reported a lower number of job cuts was June 2000, when they announced 17,241 planned layoffs. On the other side of the employment spectrum, job growth is showing signs of a slow recovery. The
U.S. Department of Labor
indicated on Friday that total non-farm payroll employment inched up 74,000. The U.S. non-farm payrolls report was forecasted to add 196,000 jobs in December, according to Reuters. However, the unemployment rate declined to 6.7 percent in December from 7.0 in the previous month.