People fear change, and that appears to be the case in corporate cubicles, where American workers are slow to adapt to the hot new technologies and communication tools we're all talking about - but apparently not using much. A Forrester Research study suggests we're slow to adapt for a variety of reasons.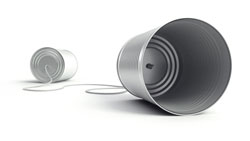 As summarized in Computerworld, the study suggests employers are slow to distribute usable smartphones and are turning a deaf ear to younger employees' desire for more texting and social networking tools.
Only one in three information workers use a laptop for work, while one in nine uses a smartphone. Seventy-six percent use a desktop PC most of the time. One in five shares a PC with a co-worker. Managers are the most likely (50%) to get a notebook or smartphone (20%).
Surprising isn't it? There's more.
E-mail remains king over instant messaging. Meanwhile, 74% say they never use instant messaging at work. The biggest reasons: One-third blamed lack of corporate support. For others, physical proximity to co-workers and greater comfort with e-mail and phone were the reasons they didn't use IM.
And this:
Seventy-six percent never use Web conferencing tools such as Cisco System's WebEx. Others that are mostly ignored include business-reporting tools (78%), team document-sharing sites such as Microsoft SharePoint (80%), social networking sites (89%) and videoconferencing (91%).
Read the entire article, and you'll get the feeling the office of 2009 isn't that much different from the office of 1999, even though we're all obsessing over blogs, wikis, Facebook, Twitter, and Blackberrys. There's a big disconnect somewhere. What's the reality where you work?
-- Don Willmott