Social media is tightening its grip on our lives and more businesses are implementing cloud-based solutions. So it follows that the design, construction and maintenance of data centers has become the red-hot center of cutting-edge technology.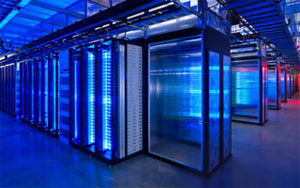 Building facilities that can process petabytes of data in milliseconds, then pump it out to the world at the speed of light — or at least at the speed of fiber optics — is more than just old-fashioned networking. These efforts are breaking new ground not only in computing but also in architecture, energy management and even physics. What could be more interesting? Want to learn more about it? Just go to Facebook, or to be more precise, Facebook's Prineville, Ore., data center. (It has its own
Facebook page
, of course). One would think that the biggest players in social media and the cloud -- like Facebook itself, Google, IBM, SAP, Dell, HP and the rest — would try to protect their data design secrets, and most do. But Facebook is taking the opposite tack, throwing open the doors of its facility as part of its
Open Compute Project
. The goal: Encourage industry-wide collaboration on the design of smart data centers for the future. That means anyone can get a look inside. To get you going, here's
a video tour
. Facebook starts with custom motherboards in a 1.5U form factor that allows for serious fans and heat sinks to keep things cool. In fact, cooling is a major preoccupation when it comes to designing and even locating data center buildings. After all these decades, processors still run hot. Cooling systems are concentrated on a floor above the servers so they can take advantage of cooler air falling while warmer air rises. Everything is carefully climate-controlled, but it turns out that duct work isn't necessary in this design.
The servers themselves are stripped down to the bare bones, with each rack holding 30. Powering them has been made stunningly efficient. Facebook says that typically between 11 and 17 percent of power is lost when you transfer it to the servers. At Prineville, the figure is just 2 percent. Overall, the site achieves a Power Usage Effectiveness (PUE) rating of 1.07, beating the industry average of 1.15. (PUE is total facility power divided by the power that makes it to the servers. A perfect score is 1.0.) While some environmentalists and locals grumble that Prineville is powered with coal-generated electricity, we can hope the effort to cut power consumption is a serious step in the right direction. Right now Facebook is building another data center in western North Carolina where, thanks to local tax breaks, Google and Apple have also planted flags. It's hard not to geek out over vast humming rooms filled with servers lit dramatically by (energy-saving) blue LED lights. And there'll be many more of these rooms soon. My expectation is that in the next five years, tens of thousands of new jobs will be created in the data center area, not only in the nuts and bolts of design and construction, but also in the "software" side, where coders will figure out how to make the most out of those thousands of servers all sharing the load of increasingly demanding cloud-based applications. This stuff is cool, and it's getting literally and figuratively cooler all the time. Keep your eye on data center design. It's one place where the future is today.