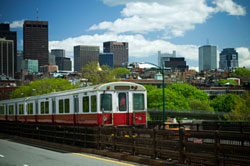 Two Biotech Firms Leave Maryland, One for DC:
Two biotech firms are exiting Maryland. Celsion, which develops cancer treatments, and Vanda Pharmaceuticals, which works on schizophrenia and sleep disorders, are leaving for Lawrenceville, New Jersey and Washington, D.C. respectively. Celsion's move has to do with a jobs creation grant offered by the State of New Jersey. Company officials also pointed out the large concentration of big pharmaceutical companies nearby.
Gazette.net
Get a Masters in Cybersecurity:
Virginia's George Mason University will offer a graduate program in cybersecurity, a multidisciplinary Master of Science degree in management of secure information systems. The program will not be strictly techie. Instead, it will blend elements of engineering, public policy, and management. It will begin in the spring semester.
Government Computer News
GAO Says Social Media Has Risks for Agencies:
A new Government Accountability Office report suggests that government agencies that have embraced social media to get their messages out haven't dealt with challenges that it brings to managing and identifying records, protecting personal information, and ensuring security. The report examined 23 major agencies that GAO and found they have made only mixed progress in setting policies. Twelve have guidance outlining how to manage records by their use of social media, and 12 have updated privacy policies.
Washington Technology
U.S. Turns to Russia and China for Help With Anti-Hacking Fight:
The U.S. government is turning to China and Russia to fend off hackers and cyberspies, some of whom are likely Chinese and Russian. Both countries have been accused of dabbling in malicious online activity, but identity theft is a problem that all three countries agree needs to be addressed together. The FBI has a liaison in Beijing, and the Secret Service will open an office there and in Russia as well.
NextGov
Big Fed Data Center Savings Coming Soon:
Data center consolidation plans will be published online in October, according to outgoing Federal CIO Vivek Kundra , and big savings are expected. Federal agencies will close 800 of the government's 2,094 data centers by 2015, with a potential annual savings of $3 billion. Kundra also recently said that of 373 federal data centers will be closed by the end of 2012.
Federal Computer Week
Washington Places Seventh in Download Speed Test:
A Pando Networks study has discovered the cities and states with the fastest average Internet connections and has also revealed striking disparities in the quality of Web access across America. The study, which tracked downloads by four million users from January through June, found that Washington averages 759 kilobytes/sec, placing it seventh among major metropolitan areas. The fastest average download speed is in Andover, Massachusetts, with speeds at 2.8 megabytes/sec.
Pando Networks