Jim Miller, a technical marketing and project manager, has seen an more opportunities arise in Minneapolis's IT job market during the last three months, both for contract work and full-time positions in the financial services and medical device industries.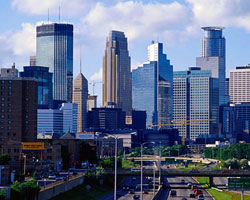 Currently a contractor for Wells Fargo, Miller says his MBA, coupled with project management experience, has made him more marketable during the economic downturn. "I've also managed projects in .NET and Java, and that's been very important," Miller says. "I've worked for quite a few Web applications that interface with Oracle, PeopleSoft and Siebel. I consider myself more of a generalist and that's helped. Plus, Minneapolis doesn't have the increased highs and lows that you have on the coasts."
Recruiters agree the area's job market has taken less dramatic turns than others, and now they're seeing an uptick in demand compared to last year. Isaac Hagen, a business development manager with Manpower Professional, says his job orders are up 52 percent year-over-year. At the same time, he hasn't seen a high volume for either direct hires or contract-to-perm orders. Customers tell him there's a possibility a contact job may lead to a full-time position, though it's never specified in an actual contract.
"We're not back to pre-recession levels," Hagen says. "But we're seeing demand for SAP talent and requests for .NET and Java developers." Most important, he's seeing job orders for project managers to oversee efforts that were put on hold - as well as some new projects. "I'm excited to see that," he says.
Kathy Northamer, a senior vice president at Robert Half Technology, also reports an increase in demand for IT workers, both full-time and contractors. The uptick started in January, she says, when many companies renewed their budgets. "I wouldn't say it's dramatic, but it's been consistent."

Skill sets in demand are on the infrastructure side, with a need for desktop support and help desk. There's more need for Web development and .NET experts who can do development both on the front and back ends. Busy verticals include health care and manufacturing. The focus is on projects that can help a company be more efficient.
Kyle Krzmarzick, a managing director at Technisource, started to see an upswing in job orders in October and November of last year. He's experienced 10 to 15 percent growth from January to February.
Krzmarzick needs project managers, business analysts and quality assurance experts. He also has requests for embedded software engineers and C++ expertise, particularly in medical devices. "We also are seeing demand for .NET and Java," he says.

On Dice, the region's job postings reflect an upward trend, showing a 17 percent year-over-year increase, with 1,129 job posted in February this year, compared to 967 in February 2009.
-- Sonia R. Lelii