Computerworld has the lowdown on how to improve your green knowledge so you can remain conversant in new technologies and stay ahead of the pack as green issues continue to captivate CIOs in the months and years to come. The article outlines four skill sets you may want to look into as you become a nascent green IT guru.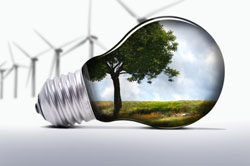 Facilities Design and Management
"Organizations of all stripes are trying to create more sustainable work environments, with some aiming for Leadership in Energy and Environmental Design (LEED) certification from the U.S. Green Building Council. As such, IT professionals are being asked to help create a green footprint."
Carbon Management
"As companies try to cut their carbon footprints, they're turning to their IT leaders to develop the systems need to calculate and track carbon throughout the organization and its sometimes vast supply chain. Thus, someone in IT needs to know about embedded carbon and how to measure it in the products and processes throughout the company."
International and U.S. State Environmental Laws
You may not be a lawyer, but "IT leaders are encountering state laws and international regulations that impact everything from the IT products they buy, to how they dispose of them, to their company's carbon footprint."
Energy Management
"IT leaders must develop a better understanding of their entire organization's energy needs as well as a better relationship with their electrical utilities."
The article also suggests looking into ways to recast skills such as business analytics, change management, telecommunications, and asset management/TCO in a green rubric. It certainly looks like the time to go green is now.
-- Don Willmott