A few weeks ago I found out my 15-year-old cousin was going to be in town briefly. I fired off a quick e-mail to see if he wanted to stop by and say hi. Ten days later, I got an e-mail back. "Sorry I didn't get back to you sooner," he wrote. "I'm not much of an e-mailer." So it's true. Kids today are walking away from e-mail because, as they often tell baffled adults, "It's too slow." Lesson learned. I should have texted him.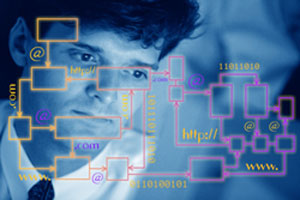 This little epiphany in 21st-century communication comes at a time when I'm also noticing that some of my adult friends and professional contacts are using Facebook as a primary means of communication. I find this weird, but I guess it's not too surprising given the social network's popularity across demographics. You can download plenty of
business apps for Facebook
these days, and Facebook itself has improved its messaging services under the assumption that the social network is becoming many people's default screen. Even smartphones are starting to integrate social network streams into their opening screens. One trade publication wondered last week if Google pushed aside CEO Eric Schmidt
to better compete with Facebook
. And yet, e-mail has worked just fine for me for the past quarter century, and in business settings it's still the way people communicate and the way things get done. Isn't it? Are we really poised to move beyond e-mail in the enterprise to some kind of group-enabled, socially-driven, wiki-like free-for-all? I, for one, hope not. Despite its annoyances - and the annoying people who send out too many messages or use it to cover their butts on a daily basis - e-mail, used correctly, is incredibly efficient. The fact that it can be stored and searched makes it a valuable and pivotal business tool (although former employees of Enron might disagree), collecting and archiving the corporate knowledge we'll want to tap into again and the promises we've all made to our co-workers. Where e-mail stumbles is in group collaboration. In the magazine world where I come from, I spent years sending e-mails saying, "I edited the story on the network. You can edit it now." An hour later, my colleague would e-mail back. "I've made a few changes. Take a look." And so on. A really snazzy group collaboration tool would have been a godsend. There was a time when instant messaging was supposed to help. At least it was "instant." I once worked on a team in which every person was required to have AOL Instant Messenger up and running all day to facilitate fast communication. The result? Interruptions and annoyances. I turned it off and reverted simply to walking down the hall, where most of my colleagues were working. Today, anyone tasked with researching groupware tools or another instant alternative to e-mail knows what a morass of confusion such technology can lead to. The cost, the feature lists, the training, the archiving, the compatibility with legacy systems. Is Facebook going to be groupware-enabled any time soon? Is Twitter? I doubt it. For the foreseeable future, e-mail is going to be the way business communicates, so hang onto that BlackBerry for a while longer. As for my cousin, he'll be joining the workforce in about seven years, and I do wonder what kind of gear he'll be handed on day one. A smartphone? A tablet? A laptop? Certainly not a desktop. He'll log on somewhere and start communicating with his co-workers somehow. Do you think it will be something other than e-mail? I don't.
-- Don Willmott