[caption id="attachment_4893" align="aligncenter" width="618"]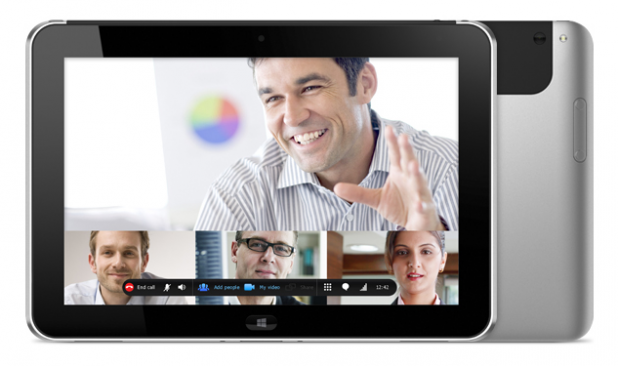 HP's ElitePad 900.[/caption] A little over a year ago, Hewlett-Packard's tablet dreams seemed to crash and burn with the demise of the TouchPad, which ran the webOS operating system inherited as part of the manufacturer's acquisition of Palm. The axe fell after a mere six weeks of anemic sales. (In a somewhat-ironic footnote, once HP declared the TouchPad dead and slashed prices to clear out inventory, the devices immediately sold out.) But as it turns out, that wasn't the end for HP in the mobile arena: the company is making good on its earlier promise of bringing Windows 8 tablets to the market. The HP ElitePad 900 boasts a 10.1-inch screen, front and rear cameras (the latter 8 megapixels), and weighs 1.5 pounds. It will run Intel's dual-core "Clover Trail" Atom processor, and feature either 1 32GB or 64GB solid-state drive. HP is also offering a "Productivity Jacket" with an integrated keyboard, SD card reader and connectivity ports, along with an "Expansion Jacket" that apparently adds longer life when bundled with an "ElitePad Jacket battery." In contrast to previous versions of Windows, which offered users an interface modeled after a desktop, Windows 8's Start screen features a grid of colorful tiles linked to applications—the better to touch, in the case of tablets and other mobile devices. Microsoft is betting heavily that Windows' upcoming app store will give the new operating system the same kind of versatility (via thousands of cloud-based apps) that made Apple's iPad a hit. HP is marketing the ElitePad 900 as primarily a business device, which seems natural given the substantial Windows install base within the enterprise (not to mention HP's own presence there). To that end, the tablet also features a tablet pen for making notes, as well as a PageLift application that captures images of whiteboards and documents so the latter can be shared and used without an additional round of editing. While HP is clearly backing Intel with this particular creation, some manufacturers will produce next-generation Windows devices that rely on ARM architecture. This ARM-compatible "Windows RT" could give Microsoft an advantage in the mobile-device market, where ARM is currently the dominant architecture; however, the choice to split Windows could also shake up the long-running "Wintel" alliance that allowed Microsoft and Intel to dominate the traditional PC market for so long. Microsoft's own Surface tablets, produced in-house, will be offered in ARM and x86 flavors. That in itself is an issue for manufacturers—back in August,
an Acer spokesperson
termed Microsoft's own-brand products "a negative for the whole PC industry"—but perhaps not nearly as big as headache as trying to decide whether to embrace x86 and ARM as the foundation for a Windows tablet (and thus wrestle with more manufacturing-related complexity), or shun one in favor of the other. Then there's the issue of selling the two flavors of tablet to consumers in a way that makes sense and fully encapsulates the respective capabilities of each. HP offering a "Productivity Jacket" with built-in keyboard seems an attempt to play in the same sandbox as Surface, which attracted a good deal of attention at its unveiling for its flexible cover with a keyboard. Whether that feature ends up replicated by other Windows 8/Windows RT manufacturers remains to be seen. The HP ElitePad 900 will arrive on the market in January 2013, following the crucial holiday shopping season.
Image: HP