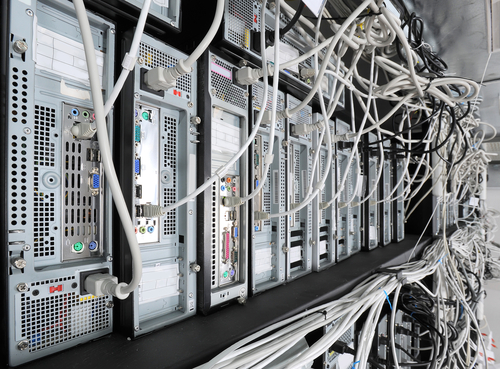 Amid a quarter of missed analyst estimates and shrinking revenue, Dell's latest results offer one bright spot: its Enterprise Solutions and Services organization reported a 3 percent increase in revenue, hitting $4.8 billion, thanks in large part to its server and networking business. DCS server sales for scale-out solutions also skyrocketed. But overall, Dell missed analyst estimates for its fiscal third quarter: the company's net income shrank 47 percent year-over-year, to $475 million, while revenue dropped 11 percent to $13.7 billion. Dell's "12G" servers now represent two-thirds of the company's server revenue, at ASPs and margins above those of the previous generation servers,
Brian Gladden
, Dell's chief financial officer, said during the earnings call. Networking also grew by 40 percent,
boosted by Force10
. "We're pleased with the Enterprise Solutions and Services business," he added. "With a revenue run rate approaching $20 billion, growing at roughly mid-single digits and strong profit, this is a business where we'll continue to invest and accelerate our growth." Dell's traditional strategy is to focus on "profit share," or maximizing high-margin products. That's translated into a focus on the enterprise space, where Gladden conceded that Dell would "defend our turf in important parts of our business." The anemic recovery has led companies to examine their cost structures, Stephen Felice, president of both Dell's global and consumer SMB business, told analysts and media listening to the call. "I feel like we're hitting an inflection point where you hear CIOs, and I've heard many of them specifically say, 'I've got to get off of my proprietary environment. I've got to get off the mainframe.' These are comments we never used to hear." Many large commercial customers are deferring purchases of discretionary IT hardware, Felice added. Dell's storage revenues dropped 16 percent, with actual sales to large enterprises falling 8 percent. Dell's storage revenue dip was apparently below expectations. And the less said about Dell's consumer business, the better: consumer sales fell 23 percent with an operating loss of $65 million, while SMBs dropped by just 1 percent. While Dell executives said they were "encouraged" by Windows 8 sales, that wasn't exactly the ringing endorsement of Windows 8 that Wall Street may have been hoping to hear.
Image: White78/Shutterstock.com