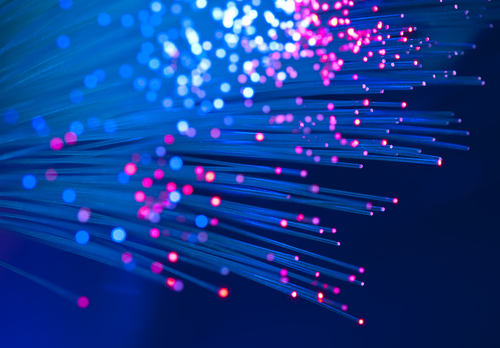 A group of European companies believes it has the answer to the high costs of networking: switch from the electron to the photon. The PhoxTroT project, a four-year research project funded by the European Union, will attempt to replace traditional networking components with photonics, which pump photons over fiber-optic cables. The EU will spend about 9 million Euros on the effort, supplemented with an undisclosed amount by the technology partners themselves, led by Fraunhofer IZM. The ideas underlying the project aren't exactly new: in 2008, for example,
a UC Santa Barbara study
noted that (at the time) networking transceivers consumed an average of a watt apiece. That contributed mightily to the estimated 350 million kilowatt hours consumed by the Internet, some 40 percent of which came from core switching infrastructure. If photonics could replace the latter (plus another 10 percent related to transmission), it could total significant energy savings. "The novelty of the PhoxTroT project is that we are now researching the synergies between the various technology components and are combining them with each other in a new research plan based on the 'mix-and-match' principle," project coordinator Tolga Tekin from Fraunhofer IZM, wrote in a statement. In theory, the project will help create entirely new technologies that can guarantee a photonic data connection will remain constant across hundreds of miles' distance. Three prototypes are in development, including optical components that can transfer information on the server board itself, board-to-board connections, and a rack-to-rack interface. The project partners will also engineer single-mode solutions that integrate optical chips onto one circuit board, allowing for signal transmission via one optical path instead of multiple paths as before. Whether or not the photonics project succeeds, companies such as Nokia Siemens have found that the optical network (ON) market hasn't borne fruit, or at least profits. This week,
Nokia Siemens announced plans
to sell its ON business to a private equity partner, amid gloomy analyst reports of the future of the market as a whole. PhoxTrot's partners appear to be interested more in research than profits. Nonetheless, coordinating corporations with European universities is a complicated dance—hence the name "PhoxTrot." "The greatest challenge is coordinating partners from a wide range of disciplines," Tekin wrote. "On the one hand, for example, there are the technology experts, and on the other hand, systems experts. We have to bring them all to one table, establish an understanding between them and guide the communications into the right channels."
Image: asharkyu/Shutterstock.com