[caption id="attachment_9312" align="aligncenter" width="618"]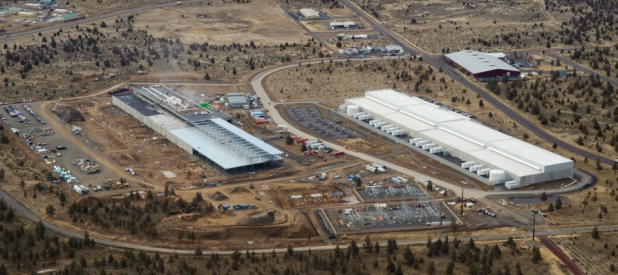 Facebook already has a massive data-center footprint, including its Prineville, Oregon facility.[/caption] Who's behind the mysterious (and massive) Project Catapult data center in Iowa? If you believe the legislative sources cited by the
Des Moines Register
, it's Facebook.
The Register's blog post
notes that the Iowa Economic Development Authority Board and Altoona's City Council are expected to consider incentives for the project on Tuesday, according to legislative sources. Facebook hasn't confirmed the deal to Slashdot or the Des Moines paper. Project Catapult is the codename of a proposed data center in Altoona, Iowa, which has attracted attention for both its secrecy and its size. Earlier this month,
the Register reported
that the site has expanded its building plans by nearly 300,000 square feet, for a total of 1.4 million square feet. Facebook's Prineville datacenter (as planned in 2010) totals just over 300,000 square feet—even after the social network announced plans to double the facility's size. Although the exact cost of the Catapult remains unknown,
the Associated Press
has estimated it at $1.5 billion. Catapult will be the "the most technologically advanced data center in the world," the
Register
's sources told the paper. A number of other data centers are being built (or have been built) in the area, and sources there have told Slashdot that they're aware of who is behind Catapult, but so far have been unwilling to comment on exactly who. If Facebook's truly owns the site, the Altoona facility could be Facebook's largest. Facebook has historically operated out of two colocation facilities on the East and West Coast, the size of which Facebook has not disclosed. A reasonable strategy might be for Facebook to transition out of its colo facility into a facility it wholly owns and operates. (According to
Facebook's 2011 PUE data
, the West Coast colo consumed 227 megawatts to Prineville's 71 MW. While that may give an indication as to the eventual power-generating capacity of the Altoona site, it should be noted that the colo was undoubtedly less energy efficient than the custom-designed Prineville facility, which was also just ramping up at the time.) Tied to the project is a separate request for wind energy production tax credits; the latter would require legislative action, according to the
Register
. Renewable energy has become a priority for Web giants like Google and Facebook; on April 19,
Google said it has worked with North Carolina utility Duke Energy
to provide a renewable energy source that it will use as part of a $600 million upgrade of its Lenoir, N.C. data center.
Image: Facebook