With an eye toward expansion,
Facebook
is moving its New York office from midtown to 770 Broadway in the city's more tech-centric lower Manhattan.
CNET
says that although the team began working out of the new space Monday, the "official" opening will take place in the spring. After that,
the company plans to host meetups
and other events for the local tech community.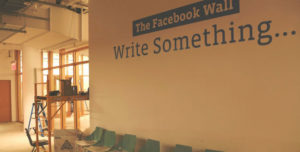 Currently, Facebook has 320 employees in New York, about 100 of whom are engineers. Moving downtown, observes CNET, "marks a continued bet on New York as a hub for talent and connections to advertising's movers and shakers." The company expects to grow the staff over the next year. That includes adding more engineering talent. The team there works on products including Pages, mobile and location, artificial intelligence and infrastructure. "New York has always attracted some of the best creative minds in arts and culture, fashion, finance, academics and tech," Carolyn Everson, Facebook's vice president of global marketing solutions, was quoted as saying in
PSFK
. "So it's only fitting that we continue to invest in our presence here." The office covers about 100,000 square feet on two floors in the building and was designed by the noted architect Frank Gehry, who designed part of Facebook's California headquarters.