For a number of reasons, now might be a good time to consider what it takes to work as a contractor.
By Sonia Lelii
Dice News Staff | February 2009
---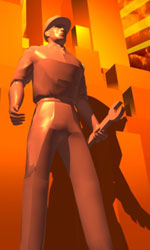 It's inevitable that during down economies, people mull the idea of working for themselves. Either they want a sense of more control over their lives, or they're worried the ax is going to drop them into a tough job market with no choice but to set up their own shop. Among the perpetually optimistic, there are those who say downturns are exactly the right time to start a business: So long as you have the staying power (meaning, you can keep your bills paid), you can take your early steps and make your early mistakes, and be up to full speed when business bounces back.
So, for a number of reasons, now might be a good time to consider what it takes to work as a contractor.
The first step is to decide whether you want to set yourself up as a standalone business - and take on all of the responsibilities of managing it - or align yourself with agencies that can be middlemen for you. An agency can help you with things like health benefits, which can be the deal breaker on whether you decide to go it alone.
"You can go to an IT staffing firm or you can go the individual route. It all depends on the individual," says Katherine Spencer Lee, president of southeast operations at Robert Half International. "My first advice to someone who wants to work on their own is to find an attorney and get incorporated. If you establish a company, then you should get insurance and understand the process of paying quarterly taxes."
Get a Wingman
If you want to work with a staffing firm, go to networking events or ask colleagues about which agencies have good reputations. Target reputable firms and go online and read about the companies and what types of technologies they specialize in. It's also important to know what type of medical benefits and training they offer. For instance, Robert Half Technology specializes in Web 2.0 application development, infrastructure support, virtualization, business intelligence, VoIP and telecommunications. It wants job candidates to have hard and soft skills. It also provides medical benefits and takes care of paying your taxes.
Once you've selected an agency, or agencies, call and set up in-person interviews with each one. Some will give you a technology evaluation, in other words test you in specific in-demand skills. Once you've passed that, they'll check your references and determine if they want to represent you. All the while, remember you should be evaluating the agency as much as the agency is evaluating you.
Flying Solo
If you decide to establish your own business, take a long, hard look in the mirror and make sure you're comfortable with the idea of marketing yourself. This is crucial in determining your success. As a self-employed independent contractor, you'll always be in job-search mode - especially at the outset, when you're just getting started. You have to be comfortable in picking up the phone and calling companies in order to determine what their needs are and how you can fulfill their requirements. If you already have relationships with companies, you have a head start. "Soft skills are really important," says Spencer Lee. "It's all about the ability to communicate."
Another important point is to determine how much you can charge for your skills. In this economy, that can be tricky. While companies are pursuing more independent contractors these days, there are enough people on the market to affect how you can price yourself. Expect some friction when it comes to pay scales.
Matt Conley, branch manager at Sapphire Technologies in Boston, notes that market conditions are causing a realignment of rates, meaning companies are expecting to pay less. "There are far more candidates available at any given point than there was at this point last year," he says. "We are still at a standoff in that companies are expecting to pay less while consultants are wanting higher pay. With unemployment on the rise, history will prove that companies eventually will get their way."
Conley says "good" contractors will be prepared to roll with the market and accept the ups and down to stay on projects. Those that are determined to hold their ground will find themselves missing out on long-term quality projects.
Reach Sonia Lelii at sonia.lelii at dice.com