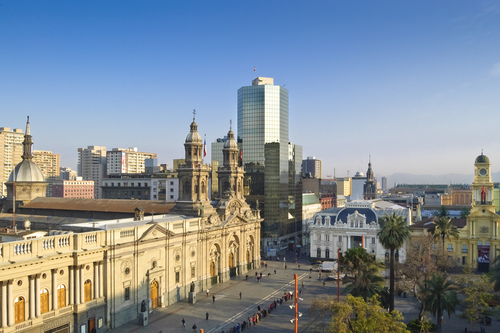 Google announced Sept. 6 that it plans to open its first data center in South America in 2013, in the municipality of Quilicura near Santiago, Chile. Construction has already begun. Google didn't comment on the size of the data center or its capacity, but did say that it would invest about $150 million in the site. From a dollar standpoint, that would likely make it one of Google's smaller data centers—but with 475 Chilean pesos to the dollar at current rates, Google could end up saving a little money. The site will be used to bolster Google's cloud services in the region, including email, storage, and streaming music. The University of Unochapecó, in the Brazilian State of Santa Catarina,
reportedly installed Google Apps in July
, according to U.K-based IT service Rocketix. "As Internet usage in Latin America grows, people are looking for information and entertainment, new business opportunities and better ways to connect with friends and family near and far," Google
wrote in a blog post
. "We're building this data center to make sure that our users across Latin America and the world have the fastest and most reliable access possible to all of Google's services." What is interesting, however, is Google's lack of effort in making its power generation green. "Our goal is to use as much renewable energy as possible to power our data centers," Google acknowledged. "But the places with the best clean power potential are not typically the same places where a data center can best serve its users (for example, they may not be particularly sunny or windy)." "So we found a creative solution: we locate our data centers where they can be most efficient, and we buy renewable energy from where it's most efficiently produced," Google added. To date, Google claims to have spent more than $915 million on renewable energy. Once the site is up and running, it will employ just 20 people, a mixture of full-time and contractor roles, including computer technicians, engineers and catering and security staff. The site was chosen because of its "location, infrastructure, workforce, reasonable business regulations and cost," according to Google. A full list of Google's existing data centers is
here
. In other foreign data center news, IBM announced Sept. 6 that it had opened its $30 million "Smarter Data Center," located at the IBM Technology Campus in Guadalajara, Mexico. And Baidu also said it would invest a whopping $1.6 billion on its own data center in China, prompting speculation that it might end up being the
world's largest data center
.
Image: Ihervas/Shutterstock.com