[caption id="attachment_9800" align="aligncenter" width="600"]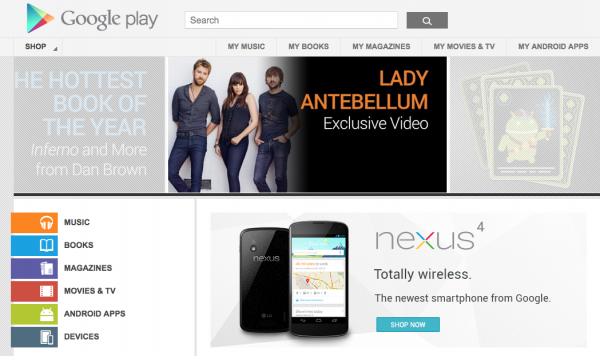 If rumors prove correct, Google Play will soon add a streaming option.[/caption] Watch out, Spotify: Google could be readying to unveil a streaming-music competitor at today's Google I/O conference in San Francisco. According to
The Verge
, which drew its information from the ever-popular unnamed sources, Google has signed licensing deals with Sony Music Entertainment and Universal Music Group. In theory, that would have Google access to a library of prominent artists such as Bob Dylan, Rihanna and Jay-Z. Meanwhile,
The New York Times reports
that the streaming service will be linked to Google Play, the company's online-content storefront—and that it won't be free, unlike Spotify, Pandora, and other popular streaming-music destinations. If those rumors prove true, and Google excludes a free tier from its streaming-service pricing, then the company will likely need to offer some sort of additional incentive to pull potential users away from Spotify and other streaming services. Whether that incentive is exclusive content or something else remains to be seen. That won't be Google's only big announcement out of I/O, of course.
Longstanding rumors
suggest that the company will show off a new Nexus 7 tablet with an upgraded screen and processor, along with a new-and-improved design.
The blog Droid Life also claimed
that the sign-up Website for a new version of Google Maps briefly went live on the night of May 14, and that it managed to capture screen-shots before Google took everything offline again. According to Droid Life, new Maps features include a "smarter search box" that surfaces relevant data as people search an accompanying map; images from Google Earth; and underlying software that adjusts results and suggestions based on the user's past history. In other words, Maps could more tightly integrate other Google tools and software—something definitely in keeping with the company's recent trend of breaking down the "walls" between its various products. Google will also use I/O to promote its Android and Chrome OS operating systems, as well as its Google Glass augmented-reality hardware. The only question is what Google has managed to successfully keep under wraps until this point—the sort of surprises that will guarantee the company additional buzz as it continues to battle Apple, Microsoft, Amazon, and other tech giants for its slice of the cloud pie.
Image: Google