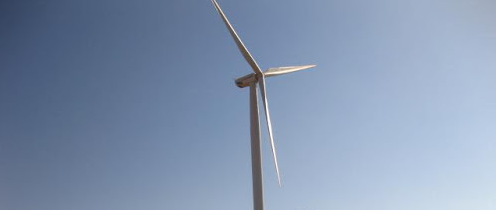 Google has invested $75 million in an Iowa wind farm, bringing its total spend on renewable energy close to a billion dollars. The equity investment in a 50-megawatt wind farm in Rippey, a small town an hour outside of Des Moines, will allow Google to further "green" the energy flowing the local power grid. Google maintains a data center in Iowa. "We're happy to help make more renewable energy available to Iowans and to support the growing wind energy industry in the state," Axel Martinez, assistant treasurer to Google's Head of Capital Markets,
wrote in a blog post
. This isn't Google's first foray into wind energy. In September, it partnered with the Grand River Dam Authority (GRDA) to supply to its Oklahoma data center with 48 MW of wind energy from the nearby Canadian Hills Wind Project. In total, Google claims it's invested $990 million in renewable energy. In 2007, it announced a three-step plan to make the company carbon-neutral: a reduction of energy consumption by maximizing efficiency; investing in and using renewable energy sources; and purchasing carbon offsets for the emissions that the company can't reduce directly. In 2007, Google installed a 1.6 megawatt (MW) solar photovoltaic (PV) installation at its headquarters, the largest such facility at the time. In July 2010, Google signed a twenty­year power purchase agreement (PPA) for the output from 114 MW of wind power at the Story County II wind farm in Iowa. The following year, it signed a PPA in Oklahoma. These projects could provide the equivalent of at least 15 percent of Google's electricity consumption in 2012.
Image: Google