Some 50,000 jobs in healthcare informatics need to be filled within the next five to seven years, according to the University of Illinois at Chicago. In an
infographic
,
The Intersection of Healthcare and IT
, the university also projects a 21 percent increase in healthcare IT jobs between 2010 and 2020.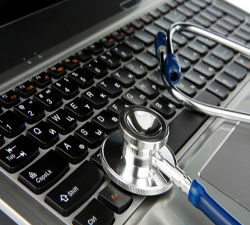 Health informatics is defined as "the science behind the convergence of healthcare, information technology and business." Put another way, it's about IT-based innovations that can help with management, planning and delivery within the industry. The biggest reason for the surge in demand has to do with changes in the industry, says Jeff Martin, CEO and Chief Change Agent at Collective Genius, a project consulting and direct placement firm. "There's a lot of change being pushed down from the government. Right now we have changes in Medicare, Medicaid, health insurance plans, there are big organizations now offering plans for individuals, so there's an individual market," he observes. "All that has changed, and there's a lot of pressure from the government to change, and that's happening very quickly." Besides hiring professionals to make the necessary changes -- and to keep up with innovations and stay competitive in a landscape that's moving incredibly quickly -- healthcare providers and insurers are looking for professionals who can simply upgrade their systems. "Most of these organizations are not new businesses. They've been around for a really long time, and all of them have technology systems, and a lot of them are old," says Martin. "They have to update these systems from a maintenance standpoint, but also connect everybody within their workforce to make the system be more optimized, as well as provide new systems and technologies for their members." The rapid increase in healthcare costs is also behind growth in the sector, as organizations seek to create efficiencies and reduce their costs any way they can. "They're finding they can do that through technology, building more systems, and being optimized," Martin says. The increase of mergers and acquisitions within the space is also fueling the demand.