A job seeker's commentary that I read recently made me think, "here's a person who's been doing much what we've been writing about, from surveying the Dice boards, pinpointing a job, researching the heck out of the company, and demonstrating how you fit.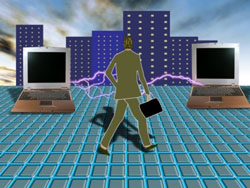 Marat Gaziev, an SEO professional, had first gone the conventional route that we've been taught since we left school: See a job, apply for job, do interview, and wait for a response. Whether the job was advertised in a newspaper or a job board. Say Gaziev:
Looking back, I see what I did wrong. I had an outdated way of thinking about the interview process. I didn't provide any detail, I didn't talk about how I saw the industry, and I didn't offer any tips on how they could improve their online presence. I was doing the minimum instead of trying to sell myself.
So he went back and reorganized his resume "to better focus on the job at hand" and formed a strategy of suggestions of what he would do once he was hired.
Although the interview is an opportunity to describe yourself, you never speak in the past tense. You pitch yourself by describing what you can do for them now. During interviews, Gaziev now suggests how a company can improve their search presence. After all, the interview is about the company, not the job seeker.
Gaziev did so well at applying this process, he was able to turn down a job because its pay was too low. It didn't matter. He'd broken the code.
"Like everything else in life, it was a process," he says. "I made an effort to think about each succeeding step and what might get me further."
--Dino Londis