More work is coming for IT professionals who understand health care processes and can implement document management systems. Both systems professionals and process workflow experts will be needed as the nation's health care system grapples with the government's mandate to convert from paper to electronic health records.
By Doug Bartholomew
---
As part of the stimulus plan passed in February, Congress enacted the Health Information Technology for Economic and Clinical Health Act. The law sets aside roughly $36 billion for health information exchange infrastructure and financial incentives for physicians to adopt electronic health records, or "EHRs". Although much of the funding won't be available until 2011 - the initiative's start date - many physicians' groups, clinics, and medical laboratories are expected to begin converting to a digital format over the next year or so.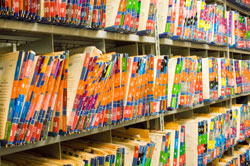 "There's going to be quite a bit of work for IT professionals in this space," says
Sam Karp
, vice president of programs at
California HealthCare Foundation
in Oakland, which supports efforts to increase the use of new information technologies in the space. "Only a very small percentage of physicians have already adopted these technologies, so there's a high potential for new business, and many consulting companies will be looking to beef up their staff as a result." Most big health maintenance organizations and large hospital groups have at least begun, if not completed, the laborious and costly shift to adopt EHRs.
Kaiser Permanente
, one of the nation's largest health care organizations, years ago initiated its HealthConnect system. While it hasn't been without its glitches, HealthConnect has been successful in enabling physicians and patients to go online to see medical test results and exchange e-mail. But for the vast number of small and midsize medical groups and doctor's offices throughout the country, the dependence on paper-based patient records stuffed inside manila folders continues. "Health care is still a cottage industry with large numbers of specialty care providers and laboratories around the country," says Karp. "It's the last industry to embrace technology to achieve the benefits it offers, including lower costs." It's that promise of lower costs that's driving the conversion plan. The Obama Administration has set a goal of utilizing IT systems to integrate 90 percent of doctors and 70 percent of hospitals by 2016. "Because so many physician practices, particularly the smaller ones, haven't adopted digital tools, there'll be a need to assist these practices," Karp explains. "We believe jobs will be created to help physicians plan their systems and adopt the new technologies, as well as to provide training and support."
Focus on Small Firms
Karp says the biggest opportunity will be for small consulting firms to help individual physicians and small medical groups make the changeover. Among the skills that will be useful is an understanding of the systems that support workflow and networking within a small or midsize office. For instance, one of the most popular networking systems for small firms is
Microsoft
Sharepoint. Also useful are document imaging systems such as
Nuance Software's
scanning tools. In addition, consultants should be familiar with some of the more common healthcare clinical information systems that support EHRs. An estimated 400 vendors offer practice management systems for scheduling and billing, as well as various EHR applications. Some of the more commonly used ones are Open Vista from
MedSphere Systems Corp.
; Centricity Electronic Medical Record from
General Electric
; Omni MD; and gloStream EMR Software, an EHR and practice management system that works in conjunction with Microsoft Office. The conversion will be expensive, with much of the cost going into the labor needed to convert billions of medical records. Uncle Sam is expected to foot at least a portion of the tab, committing $40,000 to $65,000 per physician. "Scanning is not rocket science, but there is no fast way of doing it, especially with medical records, which will require a high attention to detail," observes
Cheryl Shelmadine
, owner of
CopyTec Legal Services
in Foster City, Calif., which provides document management services for legal and medical offices. Also useful will be a familiarity with various types of applications used to bring about the conversion from paper to digital. These include medical records repositories, patient management systems, and billing systems. For example, one low-priced option for smaller medical offices is the eClinicalWorks EMR system available from
Walmart's
Sam's Clubs stores, preloaded on
Dell
computers. Although
some classes are available
, there's no special certification or training program for IT professionals seeking a niche as consultants in healthcare conversion. But Karp says the size of the opportunity may entice both practitioners and colleges to focus on it. The government's effort toward digitization "may give some idea to people who are thinking about career changes," he says. "And we may see community colleges developing programs to support the change as well."
Doug Bartholomew is a business and technology writer who lives and works in California.