Facebook's
$19 billion acquisition of WhatsApp is seen by some as the clearest sign yet that we're in the midst of a tech bubble that could threaten jobs in both startups and established IT firms. But not everyone agrees.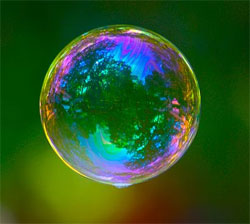 "Obviously there have been some really big prices paid for tech companies recently," says former
Apple
CEO John Sculley, citing both the WhatsApp acquisition and Google's $3.4 billion purchase of Nest. The size of both deals shocked many Silicon Valley watchers. Still, Sculley doesn't believe we're in a bubble. If we are, "it's not going away anytime soon," he says. "Too many powerful technology trends [are] driving the creation of disruptive new companies." Another view comes from tech marketing executive Alan Wallace, who says that even if it's a bubble, that's not a negative thing. "There is tremendous opportunity out there. This is a good time to be in tech." "This sort of debate seems to come round every year or two and my view today is that there are localized incidents of frothy behavior but nothing widespread enough that we should call it a bubble," adds Nic Brisbourne, managing director of London's Forward Investment Partners, writing on the website AlwaysOn. Brisbourne argues that data published recently by CBInsights shows the volume of venture investment supports his view. "Transaction values and volumes are rising, but not at bubble rates," he said.
Should Workers Worry?
If Sculley, Wallace and Brisbourne are correct, there's nothing for workers to worry about in the immediate future. In fact, the growth stage of a bubble can mean heady times, indeed. The number of startups can explode and their purchases – the spending of venture investment – can drive success at larger companies, too. Yet many still remember the crash of early 2000, when stock prices tumbled and tech investment all but stopped, resulting in the closing of hundreds of startups and thousands of job losses. And that was before the subsequent recession began, in which companies of all sizes ended up shedding workers.
What is a Bubble?
Bubbles occur when normally sensible CEOs, venture capitalists and others "in the know" start paying inflated prices for acquisitions and investing in startups that a year before they'd have turned down. Bubbles sometimes end with a crash, which is what tech workers should fear. Or they may deflate when investors lose interest and sales pressure pushes stock prices down to normal valuations.
Bubble Believers
"I have been covering Bubble 2.0 since
March 2011
," writes
Seeking Alpha
blogger Lenny Grover.
I argued that there were micro-bubbles in tech but nothing comparable in scope to the original 1995-2000 dot-com bubble. Since that time, the stock market has been on a tear and tech valuation multiples have continued to increase. I now believe that we are in a full-on tech bubble.
To get a handle on the size of Facebook's acquisition, if WhatsApp were a publicly-traded company, it would fall into the S&P 500 somewhere in the 260s. The purchase makes the company worth more than Marriott International,
Humana
or Southwest Airlines. "I do think that this [the WhatsApp acquisition] is yet another data point that tells us that this is a bubble," wrote Gina Sanchez, founder of Chantico Global, on
Yahoo Finance
. "But that doesn't mean that the bubble is going to burst immediately." The consensus of these experts, then, is that even if a bubble exists – and it's not clear that one does – there is little to worry about right now beyond how to respond to the growth opportunities it can drive.