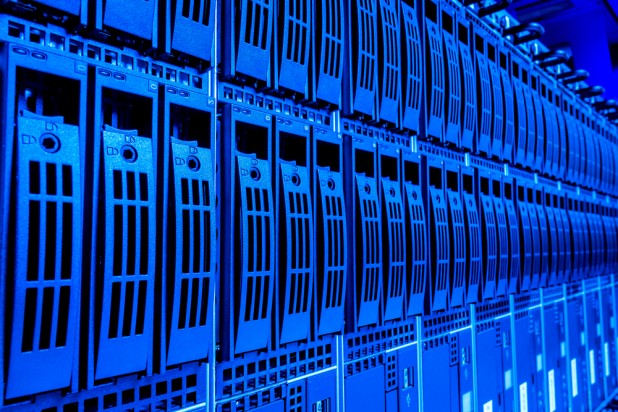 Hewlett-Packard has unveiled the next phase of Project Moonshot, its multiyear program for developing very low-energy servers: it will use server cartridges loaded with an Intel Atom processor codenamed "Centerton" for its initial production server system, codenamed "Gemini." Centerton offers 64-bit support, hardware virtualization, low power requirements, and error correcting code (ECC) memory. All those features apparently swayed HP to incorporate the server cartridges into the Gemini infrastructure, which features enclosures capable of supporting thousands of servers per rack. Because these enclosures rely on pooled resources from hundreds or even thousands of servers, as opposed to the dedicated components that define most traditional servers, Gemini is capable of packing more processing power into a smaller physical footprint. HP touts Gemini as a solution for Web servers, offline analytics and hosting, all of which require massive amounts of data processing at (hopefully) low cost and power usage. "For the last three years Intel has shown its commitment to constant innovation in the extreme low-energy server initiative," Jason Waxman, general manager of Cloud Infrastructure at Intel Data Center and Connected Systems Group, wrote in a June 19 statement, "and our deep collaboration with HP enabled us to create a processor roadmap designed to deliver exceptional performance and power-efficiency benefits." Social networks, new customer-monitoring tools, and other platforms have all introduced a massive flood of data into companies' datacenters over the past few years. In order to deal with that rising tide, those companies need servers and other infrastructure that can not only host applications and crunch data, but also run in a way that saves space and money. Research firms such as IDC have cited power efficiency as a key concern among data center developers. Although ARM chip architecture is more known for powering mobile devices such as smartphones and tablets, more IT vendors have turned to it for servers.
Dell began internal testing of ARM server technology
in 2010, driven by customer requests for less power-hungry datacenters; it used that research to develop Dell "Copper" ARM servers, which will soon ship to a group of "select customers and partners" (according to the company) and perhaps release at some point to the larger world. Research firm Gartner suggested in a recent note that ARM servers could own roughly 15 percent of the server market within four years. That means a lot of customers wanting energy efficiency along with their software hosting and data-crunching; HP (along with Dell and, doubtlessly, some other vendors) wants as many of them as possible.
Image: Jakub Pavlinec/Shutterstock.com