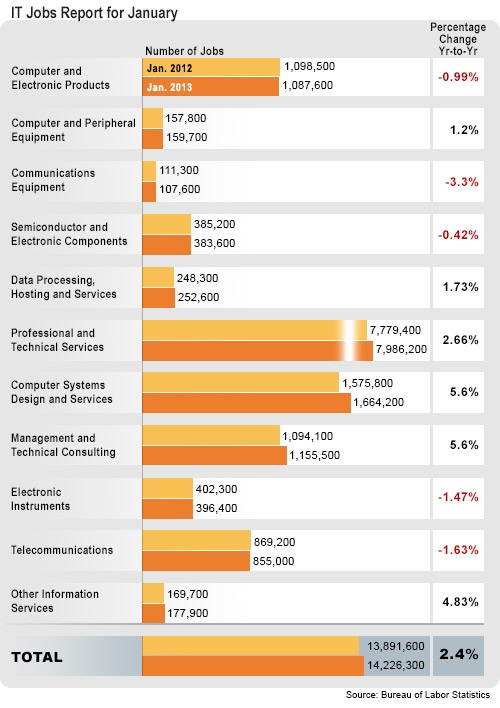 Data processing, hosting and services jobs posted 1.73 percent year-over-year growth in January to 252,600 positions, according to a report by the Bureau of Labor Statistics. That's better than
December
, when the sector posted an annual decline of 0.66 percent, and
November
, when the number fell by 1.8 percent. The news about overall tech jobs was better: Their level improved by 2.4 percent year-over-year, to 14.2 million jobs. That's a tad better than December's 2.35 percent. It was the uptick in hosting jobs that caught our eye this month. For some time, there's been talk that data center positions are under pressure because newer technology requires fewer people to run it. Though many professionals in the field contend the cloud is simply a repackaging of traditional hosting services, other industry observers seem to view things differently, even if their reasoning isn't always clear. In its August 2012 report,
Server Support Staffing Ratios
, research firm Computer Economics said the cloud's negative impact on hosting jobs "wasn't yet supported by the historical data." At the same time, it estimated that operations as a proportion of total IT staff members slipped from 3.2 to 2.8 percent. "Server consolidation, data center operation, and virtualization are all working to change the equation on optimum server support staffing levels," the company said.