Recruiters report a reduction in permanent employment requests, with companies preferring to hire contractors to cover work needing to be done.
May 2009

---
Expectations surrounding Houston's job market weren't very high at the start of 2009, when a report prepared for the U.S. Conference of Mayors warned the city could lose close to 44,000 jobs this year. It also suggested Houston could experience an area-wide unemployment rate of more than 6 percent before December.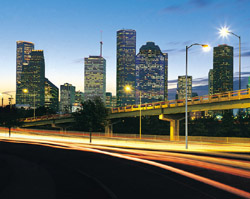 As it has turned out, January, February and March weren't good months for the Texas city. Layoffs were announced in various verticals, such as 1,300 jobs at the energy giant ConocoPhillips and 1,200 positions at the bank Compass, according to local media. The University of Texas Medical Branch, Shriners Hospital for Children and Dow Chemical also cut back.
Since then, Houston's situation hasn't gotten any better. The Houston Business Journal notes several companies with ties to the area have announced layoffs, including Sun Microsystems, UnitedHealth Group, LyondellBagell Industries and Schlumberger Oilfield Services.
For IT workers like Dwain Campbell, the job search hasn't been easy. Despite experience as an AS/400 IBM server administrator and help-desk worker in the oil and gas, food processing and manufacturing industries, Campbell has had trouble landing permanent employment. "Right now, in my field, it's pretty slow," he says. "Positions are few and far between. I found some temporary assignments, one or two help desk jobs. It's just slow."
Recruiters, too, say the market has slowed across the board for positions in IT. The area's unemployment rate has reached about 6.4 percent, says Robin Webster, managing director for staffing firm Technisource's Houston office. Still, she doesn't consider the tech job market weak. "I would describe the market as 'so-so,'" she says. "It's certainly not the disaster that's happening (in other areas)."
Webster has noticed a reduction in permanent employment requests, with companies preferring to hire contractors to cover work needing to be done. Particularly in the oil/gas and medical verticals, there's demand for contractors with SAP and Oracle development expertise, as well as Java and .NET and AJAX. Network security specialists are also needed, but there hasn't been much of an increase in calls for help-desk workers or project managers.
"We had a lot more demand through 2008 for business analysts and project managers," Webster says. As for federal stimulus money, Webster says it hasn't impacted the area yet. "I think it's too soon to tell" the impact the stimulus package will have, she says.
Robert Bennett, regional vice president at Robert Half Technology's Houston office, says Texas was one of the last states to feel the effects of the economic downturn. And, he noticed April was a good month for his practice. "Houston started to feel it at the end of January," he says. "But just in the last three to four weeks, our job order flow has increased over 17 percent, week over week."
Bennett says demand seems to be focused on database jobs and any position related to helping companies beef up Internet traffic, such as Web development. His direct hire group is seeing some demand in areas such as .NET development and project management. The verticals that still have strength are healthcare and financials. "We did see a lot of cutbacks, but a lot of companies cut too deep," he says. "They now are reaching out for extra help."
According to Robert Half Technology's IT Hiring Index, 4.1 percent of the CIOs surveyed in the West South Central region, which includes Houston, planned to increase the number of IT personnel on staff in the second quarter of 2009. Five percent expect a reduction in that workforce. Also, about five percent see systems analyst as the job that experiencing the most growth.
As in most cities in the U.S., Houston job postings on Dice declined in the first few months of 2009. April postings numbered 878, up slightly compared to 841 in March. However, those numbers are down from January's job postings of 1,154.