[caption id="attachment_5643" align="aligncenter" width="524"]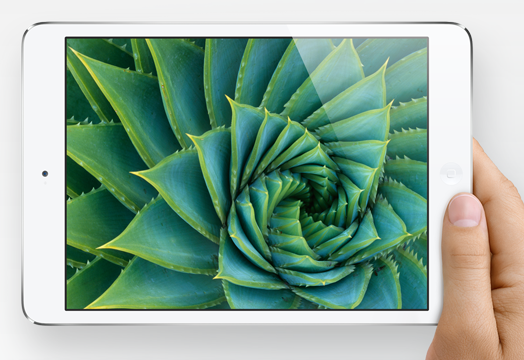 Apple's iPad Mini faces significant competition this holiday season from the Nexus 7 and other tablets.[/caption] Hurricane Sandy may have plunged part of New York City into darkness, drowned its basements and subway tunnels in saltwater, and even set part of a neighborhood on fire, but it couldn't stop New Yorkers from standing in line for hours to purchase the iPad Mini. Hundreds of people lined up in front of Apple's Fifth Avenue store for the chance to get their hands on the 7.9-inch device.
According to CNET
, which was on the scene and running a live-blog ahead of the store's 10 AM EST opening, "many people in line are not fluent in English and are either Asian immigrants or visitors." That opening was originally supposed to take place at 8 AM, and likely delayed because of the obvious citywide transportation issues. This seems in keeping with previous Apple hardware launches, in which tourists lined up for hours to buy iDevices at cheaper prices than they'd find in their home country. Profiteers also wait for launch days to purchase two or three new iPhones or iPads and ship them to countries where those devices aren't yet available, earning a profit in the process. But for those in New York City who manage to get their sweaty hands on a new iPad Mini, there's an unusual wrinkle in the situation: power is still out below 39th Street in Manhattan, as well as portions of Brooklyn and Queens. (Apple's Fifth Avenue store is well above that power line.) While some private homes and businesses in electrified areas have set out power strips for strangers to charge their phones, it's hard to imagine a crowd of New Yorkers standing idly by while someone spends a significant amount of time charging a new tablet. Fortunately, many of those without power have found refuge with friends and family, if they haven't left the city altogether. Meanwhile, reports from Reuters and other news agencies indicate that customer lines for the iPad Mini in other cities around the world are shorter than for previous iPhones and iPads. "Apple Inc's global gadget rollouts are typically high-energy affairs attracting droves of buyers who stand in line for hours,"
Reuters reported Nov. 2
. "But a proliferation of comparable rival devices may have sapped some interest." Indeed, the iPad Mini faces significant competition this holiday season from Google's Nexus 7 and Amazon's Kindle Fire, not to mention new lines of tablets running Microsoft's just-launched Windows 8. Although Apple continues to dominate the tablet market, it does face hardier opponents offering well-reviewed devices. The iPad Mini is 23 percent thinner than the full-size iPad, as well as 53 percent lighter, with 10 hours' worth of battery life; pricing starts at $329 for the Wi-Fi only, 16GB model—a premium over similarly-sized tablets on the market. Apple is betting big that the iOS experience and the Apple brand will assure it significant sales. Whether or not that actually happens, it's clear that Apple at least managed to get the diehards out in New York City.
Image: Apple