Perhaps you're getting tired of the health care debate, but here's one piece of news from the world of IT that's worth pondering. eWeek says IBM is suddenly getting generous with health care for its workforce.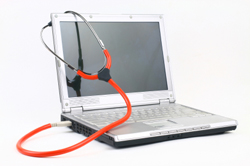 "Employees enrolled in IBM plans will receive full coverage throughout the year - no coinsurance or deductible - for in-network primary care with their internist, family practitioner, pediatrician, general practitioner or primary osteopath," says a press release. eWeek points out:
This isn't the first effort by Big Blue to help keep employees healthy and functioning productively, nor is it the only company picking up primary care. The company had been picking up the tab on mammograms for women over 40 and colonoscopies for employees.
An IBM HR executive summed it up: "As a result of our focus on wellness and primary care, IBM employees have become healthier and our costs are rising more slowly." Indeed, the company says that between 2004 and 2007 it invested $79 million in wellness programs and yielded $191 million in health care savings. Not a bad return on the investment.
IBM's move follows the conventional wisdom that it's better - and cheaper - to keep people healthy up front than it is to take care of them once they're sick. (Is your company doing nothing more than sponsoring smoking cessation programs and WeightWatchers? Let us know.)

-- Don Willmott