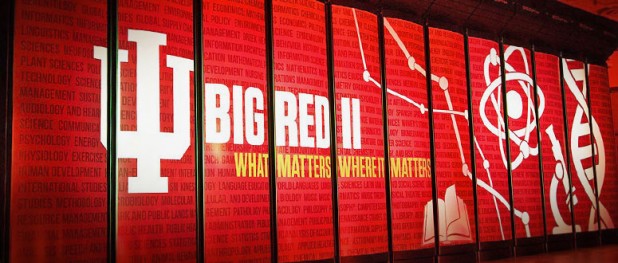 Indiana University has dedicated "Big Red II," perhaps the fastest supercomputer currently owned by a university. IU suggested that the petaflop supercomputer, which will replace the older "Big Red," would be asked to perform research in medicine, climate research, and physics, among other tasks. Although other universities technically own larger supercomputers (including
Kraken
at the University of Tennessee, Knoxville; Blue Waters at the University of Illinois at Urbana-Champaign; and
Stampede
at the University of Texas at Austin), those systems are funded under grants awarded by the National Science Foundation and operated as assets for the national research community under agreements with the NSF. The original
Big Red
helped bring in about $253 million in grant funding to Indiana University, and officials said that they hope that the new model can do the same. The new system is a next-generation Cray XK supercomputer with 21,824 processor cores.
Specifications
include 1,020 nodes which, combined, are expected to produce about 1.006 petaflops. Each CPU compute node consists of two AMD "Abu Dhabi" X86-64 processors with 16 cores each, for a total of 32 cores and 64 GB of memory per node. In addition, the GPU nodes contain an "Interlagos" 64-bit AMD chip paired with an Nvidia Kepler K20 GPU, with 32 GB of memory. They're connected via the "Gemini" interconnect. IU hasn't provided the Linpack scores that can be used to enter Big Red II into the Top500 list; however, IU has already posted a number of benchmarks comparing Big Red, a 768-core Big Red II test system, and
Quarry
, a 370-node/2,960-core Intel Xeon system already in use on the campus. (Quarry is used for research and research instruction on Linux; it uses a "condominium computing" architecture where departments can "buy" individual nodes on the system.)
The list of benchmarks
shows that the Big Red II test system is about seven times faster per node on the HPL portion of the HPC Challenge (HPCC) benchmark, and, naturally, much faster in other benchmarks as well. Big Red II, Quarry, and other computers on campus will connect to the
Data Capacitor II
, a 5-petabyte storage facility for DataCirect used for storing the Big Data sets for university needs. IU said last November that it intended to replace its original Data Capacitor with an upgraded model in time for the launch of Big Red II. "Big Red II will ensure that Indiana University remains at the forefront in the use of high-speed and data-intensive computation in support of some of the most vital and complex research in the world," Michael McRobbie, Indiana University's president, wrote in a statement. "In addition, the phenomenal success of the original Big Red supercomputer demonstrated that investing in high-speed computing returns dividends many times over in the form of scientific advances, research funding and job creation." Big Red II hasn't passed final acceptance testing and benchmarking, which is scheduled for May, according to
an official university timeline
. In July, Big Red II will actually enter production status, and the university will begin shifting over from Big Red to Big Red II as well. The original Big Red is scheduled for shutdown in September.
Image: Indiana University