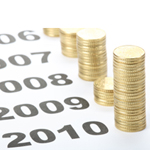 More on the recent 2010 IT employment forecast from Foote Partners. Here's what I think is the big quote: "Expect the length of the tail on this staffing lag to be much longer than previous economic recoveries." But maybe you knew that already.
Another insight:
Volatility will continue to punctuate staffing and pay levels throughout 2010, with human capital investments focused on specific skill specializations as employers struggle to recalibrate their IT workforces by striking the right balance between costs, agility and intense competitive market pressures.
The theory is that employers are shifting from blanket hiring to seeking out people with very specific skills to serve very specific needs. That may mean hiring, or it may mean bringing in contractors and consultants. For the right contractors, Foote believes, "the search will be even more frantic next year."
So what's hot? IT security and SAP. What's not? Social media, Web development, e-commerce applications, and business intelligence.
My takeaway: More than ever, it's important to highlight and market your specific skill set - even more than your overall career trajectory and success.
-- Don Willmott