[caption id="attachment_15084" align="aligncenter" width="618"]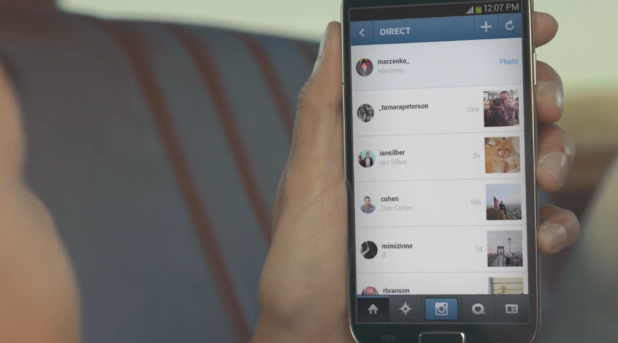 "Quick! Bombard everyone on my friend list with yet another sepia-toned selfie!"[/caption] Instagram gathered journalists in New York City for a much-hyped press conference to announce a thoroughly mundane feature: Instagram Direct, which allows friends to share images and videos with one another in private. In other words, Instagram just discovered direct messaging. Yay. But Instagram's executives are treating this like the biggest development since Mark Zuckerberg cobbled together the proto-Facebook in a Harvard dorm room. In addition to the press conference, in which the feature was
breathlessly described as "revolutionary,"
Instagram released an
explanatory video on its Website
designed to pluck the heartstrings. "There are, however, moments in our lives that we want to share," added the accompanying blog post, "but that will be the most relevant only to a smaller group of people—an inside joke between friends captured on the go, a special family moment or even just one more photo of your new puppy. Instagram Direct helps you share these moments." As if every other social network on the planet—from Twitter to Facebook and Google Plus—didn't include some sort of private-sharing capability. But Instragram—and Facebook, its corporate parent—need to do something (anything, really) to give the impression that the photo service is taking great leaps forward; if Instagram Direct proves a substantial hit, it could help Facebook retain the younger demographic that's reportedly bleeding off to other services such as Snapchat, which allows friends to send messages to one another that vaporize a few seconds after being opened. Snapchat recently raised some $50 million in Series C funding,
according to TechCrunch
—far less than the $200 million that the instant-messaging service
reportedly wanted to raise
. Some pundits saw that comparatively paltry funding round
as a sure sign
that Snapchat's value is far less than the $3 billion that Facebook reportedly bid for it earlier this year; but whatever its "worth," it's clear that the service is broadening its already-extensive customer base: Snapchat claims its network handles 400 million "snaps" a day, and TechCrunch puts its users at roughly 30 million. For the other social networks, that makes it a player to watch—and worry over. There's always the chance that Instagram Direct could allow Facebook to stay ahead of Snapchat and other competitors on the messaging front. But a revolutionary new service, this most definitely is not.
Image: Instagram