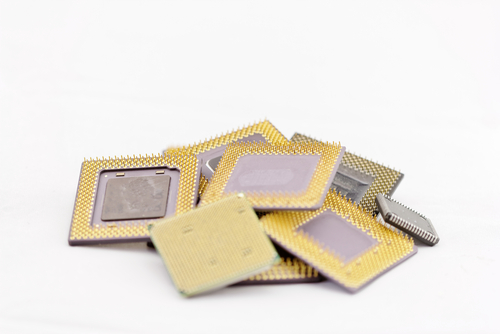 In its first earnings release since hiring Brian Krzanich as its new CEO, Intel announced a 29 percent drop in net income compared to the previous year, and predicted no growth in sales at all for the third quarter. Uh-oh. More significantly, Intel execs admitted they have not yet settled on a strategy to help the company recover from strategic mistakes that left it stuck in a PC market that continues to decline. Although second-quarter net income dropped the aforementioned 29 percent, to $2 billion,
overall revenue dropped only 5 percent
. The drop in earnings is the fourth in a row for Intel, whose fortunes have been declining right along with the anemic market for hardware, according to market researchers. After three consecutive quarters of smaller declines, sales of PCs dropped 14 percent during the first quarter of this year—the biggest decline since 1994,
according to IDC
. (That drop continued into the second quarter with 11.7 percent, the research firm said.) Intel is still the world's biggest chipmaker, with 16.4 percent of the global market, according to Gartner. Its chips power nine out of 10 PC-chip-based servers and three quarters of PCs, says IDC. By contrast, the market for "lighter," tablet-ready processors grew 52 percent during the first quarter of 2013; sales of smartphone processors rose 50 percent during the same period, according to Strategy Analytics. While Intel wasn't completely left out of that growth, it didn't capitalize on it to the extent of other firms. Krzanich admits Intel was "slow to respond" to what has turned out to be an unusually fast and dramatic shift away from PCs and toward mobile computers. "We've not always lived up to the standards we've set for ourselves,"
he said on the company's earnings call
. Krzanich predicted the market for PCs would continue to change, including major drops in price. He predicted laptops running Intel Haswell processors would appear at prices below $400 and in some cases less than $300. Those running Bay Trail "are going to move down to the $200 to $400 range," he added. "You're going to see the traditional segment falling and you're going to see some of these new categories growing fast," Intel CFO Stacy Smith added in
an interview with Bloomberg News
, suggesting that the company would "leave no computing opportunity untapped" in its search for new business.
Intel has laid out plans to move more aggressively
into the market for datacenter products, including processors designed for higher performance at lower power and better management of performance, memory and storage in rack-mounted systems. Intel's Silicon Photonic high-bandwidth interconnect will also play a central role in the company's pitch to "Reimagine the Datacenter" as a fabric-connected, highly virtualized modular computing environment running on Intel products. However, datacenter products were hardly mentioned during the earnings call, and appeared to play little role in Krzanich's long-term plans. After only a couple of months on the job—most of it spent in cost-cutting and reorganization—it might be too soon to expect Krzanich to be able to lay out a years-long resurgence plan. But he appeared willing to simply go along with the tide of the industry and hope for the best. "There will always be another next big thing," he said. "It's our job to continue to scan for emerging trends, unlocking, participating in, and shaping these nascent markets."
Image: NagyDodo/Shutterstock.com