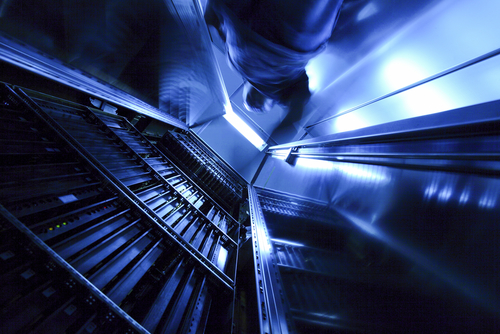 Intel's long-awaited briefing on its plans for a next-generation, software-defined datacenter offered few surprises about its big-picture strategy—but did include some interesting details. Beginning next year, for example, Intel will roll out the first system-on-a-chip version of its 14nm Core processor, as well as a 22nm SoC dubbed Avoton built on the low-power,
high-performance Silvermont microarchitecture core
, which is based on Intel's Atom chips. It will add three other classes of 14nm server chips during 2014, as well. More interesting is its plan to develop custom CPUs for customers such as eBay and Facebook, which build their own systems for large-scale datacenters. Google, Facebook and other companies with large stables of large-scale datacenters design their own hardware but, until now, have had to rely on stock processors rather than custom versions tuned to their own requirements. One designed for eBay comes with a frequency variation 50 percent wider than standard, Jason Waxman, GM of Intel's cloud group, said during a July 22 press briefing. The upcoming 22nm Avoton SoCs will contain eight Silvermont-class 64-bit Atom cores, four Gigabit Ethernet controllers, four SATA 2.0 controllers, two SATA 1 controllers and four others controlling 16 lanes of PCI express Generation 2 business and support for DDR3 memory. A related SoC called Rangeley, which is designed for storage systems, has a built-in cryptography accelerator that uses Intel's Quick Assist technology. The big-picture datacenter strategy, however, is similar to the one Intel executives have been evangelizing since April, when
Diane Bryant, senior VP and general manager of Intel's Datacenter and Connected Systems Group
, outlined the plan at the Intel Developers' Forum in Beijing. Intel is trying to shift datacenter operations from static workloads in physical systems to dynamic workloads that aren't tied to specific hardware. While datacenters have been migrating toward a more dynamic, more heavily automated model of management (usually called software-defined datacenters, or SDDN), both the path to that goal and its characteristics are foggy. "Now we're going into a whole new era where we look at IT as the service," Bryant said during the press event. Rather than a support function, IT has become the mechanism on which almost every aspect of a modern corporation runs, and one in which Intel wants to be a key participant. The bigger shift is what Bryant calls a "virtuous cycle of computing," in which billions of network-connected devices connect to corporate datacenters directly or through external Web services to give end users services. The Walt Disney Co., for example, is spending $1 billion on connected wristbands attached to guests, whose movements can be mapped and analyzed to help Disney improve the flow of the crowds and visitor experience at Walt Disney World in Orlando, she said. Making that kind of real-time, M2M-enabled big-data analytics possible means fundamental changes in the architecture of datacenters to make network and server infrastructures easier to reconfigure and provision, either to load-balance existing services or to quickly roll out resources to support new services, Bryant added. Rather than relying on traditional storage systems, Intel believes most companies are moving toward storage-as-a-service models that allow applications more control over the resources they have available to meet the demand for capacity at any given time. Intel will expand into more integrated packages designed to meet that model by, for example, combining Intel Xeon processors acting as application accelerators with Intel Solid State Drives, 10-Gigabit Ethernet adapters on its SoCs, and its distribution of Apache Hadoop for Big Data analytics.
Intel will also roll out a highly modularized rack design
called the Rack Scale Architecture, based on Atom and Xeon chips with PCIe SSD support for storage and caching. Intel's Silicon Photonics fabric interconnect will link everything together at speeds of up to 100 gigabits per second.
Image: rickyd/Shutterstock.com