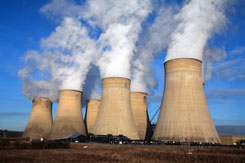 iPhone users are discovering that the new iOS 5 is a power hog. Those who've installed the OS onto their iPhone 4 or 4S have noticed that battery life is reduced by as much as 30 percent. There's much speculation in the blogosphere about the cause (Siri, more apps using location-based services, older apps not written for the new environment to name just a few). And as fast as iPhone users have coalesced with stories about the problem, many have jumped in with their own solutions to fix it. A
forum
on Apple's website offers some home-brew solutions:
"…since i deactivate iCloud, my battery is normal." – Wandgrab "Calibrate your battery. Drain it to 0 and then fully charge it." - justin133 "The main issue is that the Location Services icon isn't enabled so you do not know when the iPhone is using the GPS. First of all, turn it on. Settings > Location Services > System Services > Status Bar Icon. Now you can tweak other System Services also. I have disabled the following ones: Compass Calibration, Diagnostics, Location-Based iAds, and Time Zone. I also disabled Location Services for Reminder and Weather. These 2 tend to enable the GPS all the time, which I figured out once I had the Icon back up." -brazilan_sf
This solution from HayriC worked for several users:
1. Delete your email account(s) in Settings > Mail, Contacts, Calendars > Your Account > Delete Account 2. Reset Network Settings in Settings > Reset > Reset Network Settings 3. Reboot your phone by holding the sleep/wake (top) button then sliding to off. 4. Re-add the email account Settings > Mail, Contacts, Calendars > Add Account 5. Turn Push back on.
And finally:
"Turn off your iPhone." – my Mother
Try these and see which one works for you. And, if you find a way to optimize the power on your phone, please share it with us.